Boston College Finds New Leader in Patrick Kraft
CHESTNUT HILL, Mass. – Temple University Director of Intercollegiate Athletics Patrick Kraft, considered one of the best athletics administrators in NCAA Division I sports, has been named the William V. Campbell Director of Athletics at Boston College, effective July 1.
CSA is grateful to have assisted Fr. Leahy and VP David Trainor on the search. 
Kraft, who has been credited with transforming Temple's athletics program through new coaching hires, investments in facilities, and a focus on student-athlete welfare and improved classroom performance, succeeds Martin Jarmond, who was named the director of athletics at UCLA in May.
University President William P. Leahy, S.J., praised Kraft as a person of integrity and accomplishment who is well suited to lead BC Athletics.
"Pat understands intercollegiate athletics today and has extensive experience as a player at Indiana University, as well as an administrator at Loyola University Chicago and Temple," said Fr. Leahy. "He brings with him obvious passion, and a desire to be a part of the BC community.  I look forward to working with him."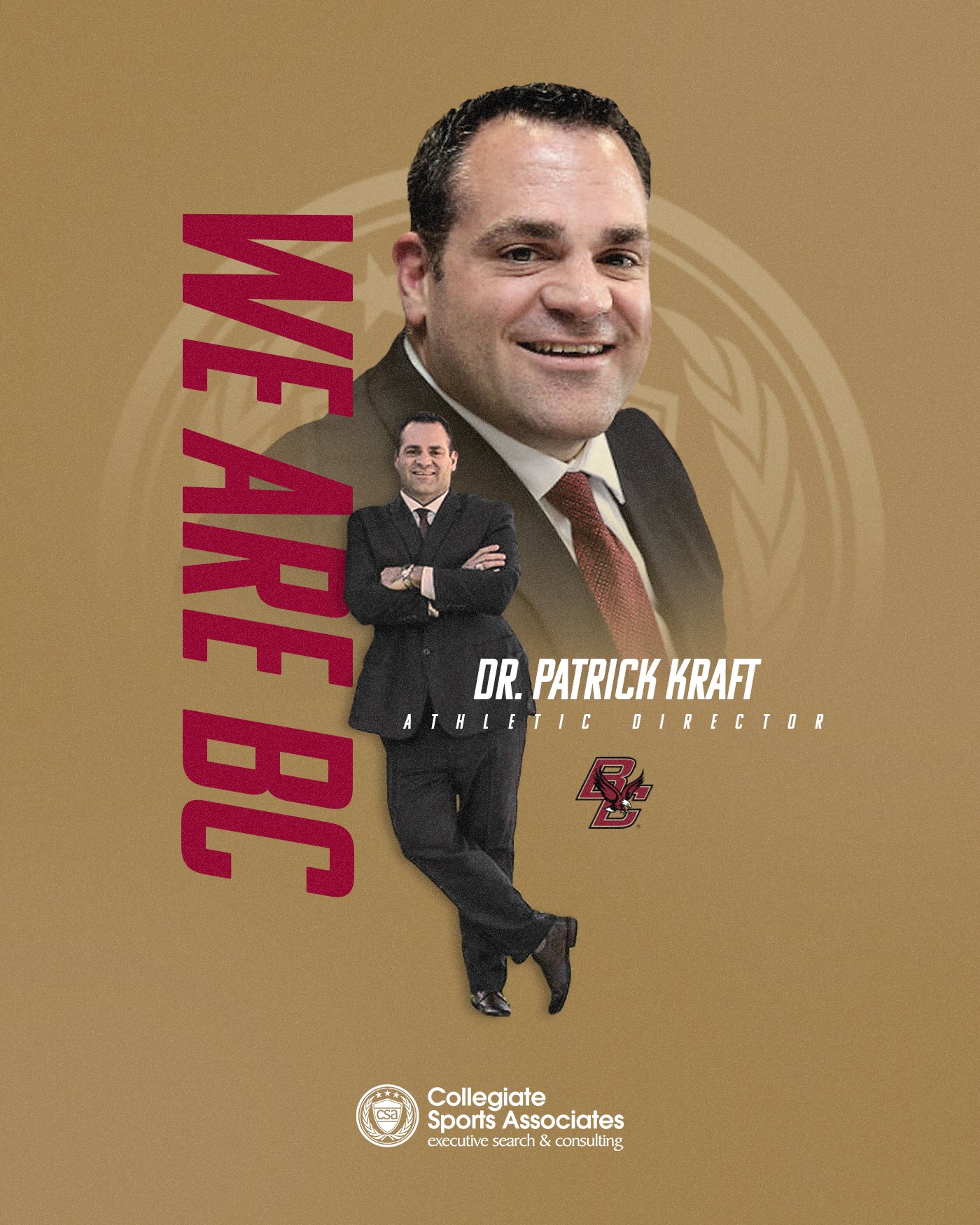 Kraft said that he was humbled to be named the next director of athletics at Boston College and was eager to begin his career at the Heights.
"I am truly honored to be selected to serve Boston College as the steward of such a great intercollegiate athletics department," said Kraft. "The core values of Boston College are in alignment with how I live my life and how I approach my job, creating world-class experiences for student-athletes with the utmost of integrity, character, faith and love. We will compete for championships, we will continue to graduate young men and women who will go on to change the world, and we will represent BC with pride."
A native of Libertyville, Illinois, Kraft attended Indiana University where he played football as a walk-on before earning a football scholarship, and earned three degrees, including a Ph.D in sport management, a master's degree in sport marketing administration, and a bachelor's degree in sport marketing management.
Prior to being named director of intercollegiate athletics in 2015, Kraft served as deputy director of athletics at Temple, executive senior associate athletic director at Loyola University Chicago, and senior assistant athletics director for marketing at Indiana University. He has also served as clinical professor in the School of Business Administration at Loyola University Chicago, and as associate instructor in sport marketing and management at Indiana University. 
Kraft and his wife Betsy are the parents of two children: Annabelle (6) and Joseph (4). 
For the full release from Boston College Athletics, click HERE.


Committed To Excellence
With over thirty years of experience in intercollegiate athletics, CSA delivers a unique level of service that effectively meets the needs of the nation's leading universities and conferences.