George Halcovage III Named Buffalo Men's Basketball Head Coach
BUFFALO, NY – George Halcovage III has been named the 15th head coach in University at Buffalo men's basketball history, Vice President and Director of Athletics Mark Alnutt announced on Thursday. A rising star in the coaching ranks, Halcovage comes to Buffalo from Villanova where he spent 15 years, most recently serving as associate head coach.
CSA is grateful to have assisted Alnutt and Bulls Athletics on this crucial search.
"George has proven himself as one of the top assistant coaches in collegiate basketball," said Alnutt. "He has experience winning at the highest level, he's a tenacious recruiter and has the exceptional ability to connect with people.  He has a very clear vision of sustained excellence for UB Basketball which will position our program to regularly compete for MAC Championships and perform at a high level in the classroom while developing young men who will be champions in life."
"It is an incredible honor and privilege to be chosen as the Head Men's Basketball Coach of the University at Buffalo," Halcovage said. "I would like to thank President Tripathi, Vice President and Director of Athletics Mark Alnutt and his wife Kate, as well as the entire search committee for their dedication, commitment, and belief in me as the leader of this program. I am thrilled to be joining the UB family and cannot wait to get to work in Buffalo! Horns Up!"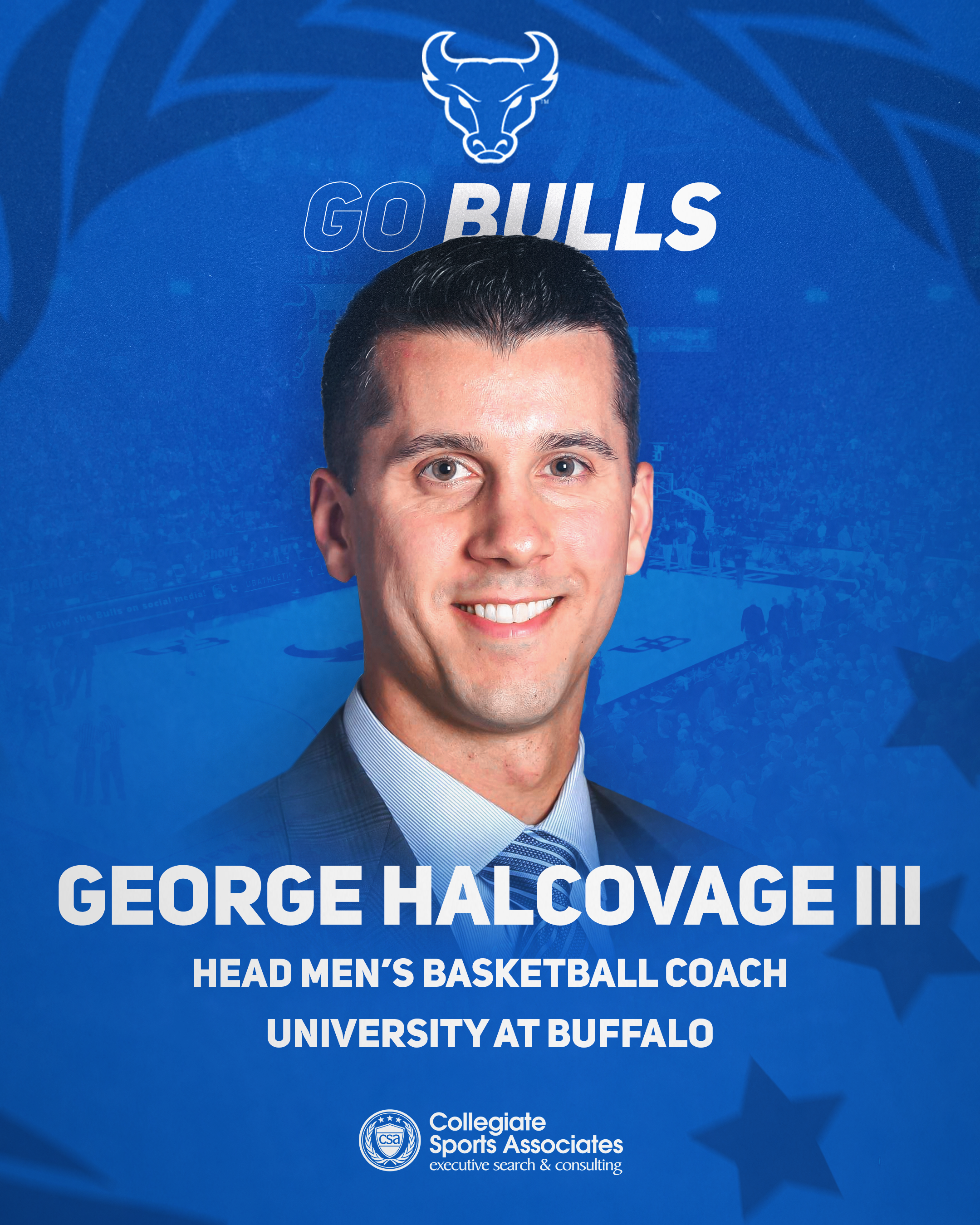 As a trusted assistant to legendary Villanova head coach Jay Wright , Halcovage helped lead the Wildcats to a record of 389-131 (.748), two national championships, four NCAA regional championships, seven Big East regular season championships and five Big East Tournament championships during his time there.
Halcovage was elevated to associate head coach in June 2021. That season, Halcovage helped lead Villanova to a 30-8 record, a Big East title and a spot in the Final Four in New Orleans.
Halcovage worked his way up the ranks at Villanova, beginning as a graduate assistant in 2008. He was a part of the Villanova staff that guided the Wildcats to the 2009 NCAA Final Four in Detroit. In 2010, he was promoted to video coordinator.  He later was elevated to the role of director of basketball operations and served in that capacity during the Wildcats' run to the 2016 NCAA National Championship. In 2017-18, he was an assistant coach as the Wildcats posted a 36-4 record on their way to another NCAA title.
Halcovage was named to the list of Top 50 Most Impactful High-Major Assistants by Silver Waves Media in 2020 and 2022.
A native of Pottsville, PA, Halcovage is a 2008 graduate of Babson College where he was a member of the Beavers' men's basketball team. He earned a master's degree in business administration from Villanova in 2012.
He and his wife, Lizzy, are expecting their first child in July.
For the full release from Buffalo Athletics, click HERE.

Committed To Excellence
With over thirty years of experience in intercollegiate athletics, CSA delivers a unique level of service that effectively meets the needs of the nation's leading universities and conferences.