UTSA Names Jeff Traylor New Head Football Coach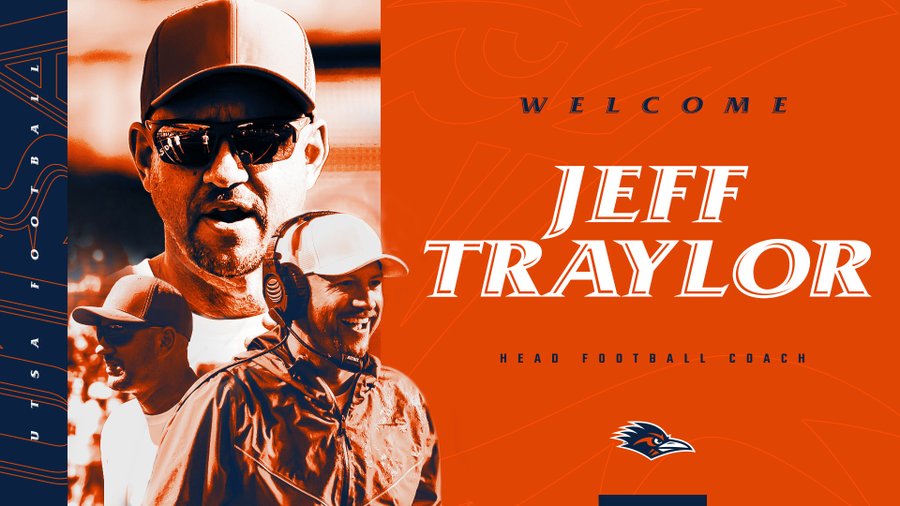 SAN ANTONIO, TX.  –UTSA has selected Jeff Traylor, former associate head coach at UT-Austin, Southern Methodist University and the University of Arkansas, as its new head football coach. Traylor has nearly 30 years of coaching experience including a highly successful 15-year career as head coach at Gilmer High School, where he led teams to three state championships and two state runner-up finishes, winning more than 87% of his games.
CSA was honored to assist Director of Athletics Dr. Lisa Campos and UTSA President Dr. Taylor Eighmy on this search. 
Traylor has served most recently as associate head coach and running backs coach for two seasons at Arkansas. Prior to that, he served in the same role at SMU for the 2017 season. He began at the collegiate level as the special teams coordinator and tight ends coach at Texas in 2015 before becoming the Longhorns' associate head coach for offense and wide receivers coach the following year.
"As we conducted an extensive national search, one candidate prominently rose above the others for his record of success, his commitment to preparing student-athletes for life and his deep ties to football here in the state of Texas," said UTSA President Taylor Eighmy. "Coach Traylor embodies all of these characteristics and has an outstanding reputation among his high school, college and professional peers for his ability to recruit, develop and mold champions—on the field and in life."
"I am so excited and grateful for this opportunity, and thank Dr. Eighmy, Dr. Campos and the rest of the UTSA community for putting their trust in me," said Traylor. "I can't wait to meet our student-athletes and the rest of the Roadrunner Family, and I look forward to hitting the ground running. UTSA is a sleeping giant and I can't wait to wake it up."
"Being a native Texan and a coach for so many years in this state, I understand how important football is to the people of Texas," added Traylor. "I'm anxious to reconnect and continue building relationships with Texas High School Coaches Association and all the great high school coaches in this state and beyond." 
"Jeff Traylor is a dynamic, transformational leader who will usher in a bright new era for UTSA football," Baylor head coach Matt Rhule said. "I have long admired Coach Traylor's passion for young people, his knowledge of the game and his unparalleled impact in recruiting. He is a dynamic personality who will recruit the very best student-athletes from all across the state and high school coaches know that if they send a young man to Jeff, he will be cared for, taught and pushed to be the very best that he can be. I look forward to seeing Coach Traylor and his staff bring a championship to San Antonio."
A 1986 graduate of Gilmer High School, Traylor earned both undergraduate and graduate degrees in education from Stephen F. Austin while playing football as a walk-on.
He and his wife, Cari, have three children: Jordan, Jacob and Jaci.
For the full release from UTSA Athletics, click HERE.

Committed To Excellence
With over thirty years of experience in intercollegiate athletics, CSA delivers a unique level of service that effectively meets the needs of the nation's leading universities and conferences.