Bowling Green Selects Fred Chmiel As Next Women's Basketball Head Coach
BOWLING GREEN, OH – Bowling Green State University Director of Athletics and Recreation Derek van der Merwe announced the appointment of South Carolina Assistant Coach Fred Chmiel (Shu-Meal) as the 10th head coach in Falcon women's basketball history.
CSA is grateful to have assisted van der Merwe, the search committee and Falcon Athletics on the search. 
"When looking for qualified head coach candidates, you look at individuals who have been around great mentors, teachers, and leaders," said van der Merwe. "You look at people who have had powerful and transformational experiences. Fred Chmiel has served and learned from the best coaches and student-athletes. He has had a long career in women's basketball and has been part of 15 NCAA Tournament appearances. He coached his coach, Dawn Staley, in the WNBA. He has patiently waited for his opportunity. It is time for him to be a part of the championship culture we are building at Bowling Green State University." 
Chmiel comes to BGSU after spending the last eight seasons on head coach Dawn Staley's staff at South Carolina. After going 35-2 and winning the national championship in 2021-22, the Gamecocks went 36-1 and advanced to the Final Four in 2023. South Carolina has won two national titles during Chmiel's tenure, reaching the Sweet 16 in all seven seasons the NCAA Tournament was held in that time.
"My family and I are so thankful and excited for the opportunity to join the Bowling Green community," said Chmiel. "I am grateful to President Rogers, Derek van der Merwe and Stacy Kosciak for the tremendous opportunity to lead this program. We look forward to continued success and reaching new heights here at BGSU."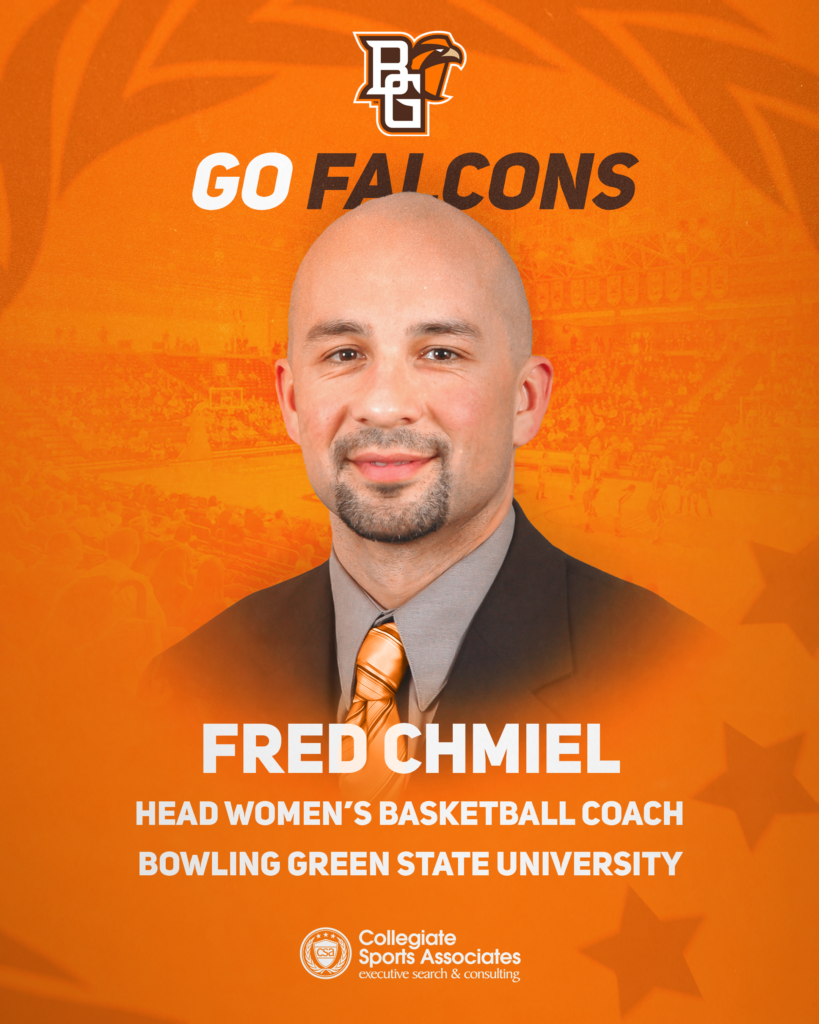 "Bowling Green State University is so pleased to welcome Fred Chmiel as our head coach of women's basketball," said BGSU President Rodney K. Rogers. "He comes to BGSU from one of the top women's basketball programs in the country, with multiple NCAA Championships and Final Four appearances. In addition to his high-caliber, championship coaching experience, Coach Chmiel brings an established record in the development and support of student-athletes. I want to thank Derek van der Merwe, director of athletics, and Stacy Kosciak, deputy athletics director, for their leadership of this national search. We look forward to joining our students, faculty, staff, alumni and community in continuing to build on the momentum of our women's basketball program at the Stroh later this year. Ay Ziggy Zoomba!"
Chmiel joined the South Carolina staff in June of 2015, marking his third partnership (Temple) with Staley, including one season when he coached Staley in the WNBA. In 17 seasons as an assistant coach at the college level, Chmiel has been part of 11 conference regular-season titles, seven conference tournament titles, 16 NCAA Tournament appearances, including 10 Sweet 16 berths and two NCAA titles. His teams have produced 12 WNBA draft picks – and no fewer than four members of the 2022-23 team have been invited to attend the WNBA Draft 2023. Chmiel's work on the recruiting trail helped deliver the Gamecocks' No. 1 signing class in the nation in 2019 and 2021.
Chmiel spent the 2014-15 season at Minnesota where he served as the Golden Gophers' defensive coordinator while also working with the guards. Despite a season-ending injury to a key member of his group, Chmiel helped the Gophers rank eighth in the nation in assists per game and 26th in the country in assist-to-turnover ratio. He also lent his WNBA experience to center Amanda Zahui B. as she prepared for her future in the league, and she was the number-two pick in the draft.
In a similar role for four seasons at Penn State, Chmiel was part of three straight Big Ten regular-season championship teams and saw the Lady Lions advance to the NCAA Sweet 16 twice in their three tournament appearances. Two of his guards went on earn All-America status and be drafted into the WNBA, and a third earned Big Ten Defensive Player of the Year honors.
Chmiel worked with perimeter players and served as the academic liaison at San Diego State for two seasons, during which the Aztecs won back-to-back Mountain West Conference regular-season titles and the 2010 Mountain West Conference Tournament championship. In his first season, 2008-09, San Diego State earned its first NCAA Tournament bid in 13 years, and Chmiel mentored another eventual WNBA Draft pick to win MWC Defensive Player of the Year honors in consecutive seasons.
Staley tapped Chmiel for his first women's college assistant coaching role during her penultimate season at Temple (2006-07), following his lone season as the head coach of the San Jose Spiders in the National Women's Basketball League (2006). The two combined to guide the Owls to a pair of NCAA Tournament appearances and a share of the 2008 Atlantic 10 regular-season title.
Chmiel first impressed Staley in 2005 when the then-Temple head coach was playing for the WNBA's Charlotte Sting, for which he was an assistant coach. Chmiel also spent time in the league serving as an advance scout for the Indiana Fever and Detroit Shock.
Chmiel's coaching career began at Feather River College (Calif.), where he had also begun his college playing career. After one season as an assistant coach for Feather River's men's team, Chmiel accepted the head position and led the program for four seasons (1995-99). He moved on to become the head coach at Lassen College (Calif.) and guided his teams to three Golden Valley Conference titles in his six seasons.
As a player, Chmiel thrived at Feather River, earning first-team All-Golden Valley Conference honors before continuing his career and education at the University of Alaska-Fairbanks.
A graduate of Excelsior College in Albany, N.Y., where he earned his bachelor's degree in liberal studies, Chmiel went on to earn a master's degree in coaching and athletics administration from Concordia University in 2022. He and his wife, Julie, have two daughters, Skylar and Ivy.
For the full release from Bowling Green Athletics, click HERE.

Committed To Excellence
With over thirty years of experience in intercollegiate athletics, CSA delivers a unique level of service that effectively meets the needs of the nation's leading universities and conferences.