Bowling Green Taps Todd Simon As Next Men's Basketball Head Coach
BOWLING GREEN, OH – Bowling Green State University Director of Athletics Derek van der Merwe has named Todd Simon the 18th Head Coach in BGSU Men's Basketball history. Simon has served as the head coach at Southern Utah for the past seven years and has an overall record of 127-115 in his eight total seasons as head coach, which includes 17 games as interim head coach at UNLV.
CSA is honored to have assisted van der Merwe and BGSU President Rodney K. Rogers on the search. 
"The BGSU family is excited to welcome Coach Todd Simon, his wife, Kati and his family to our community," said van der Merwe. "The Falcon community will soon see and experience what I have learned through this search process. He is a coach who wants to be here.  He is highly respected by his peers around the country. He is a coach who is committed to the student-athlete, the student experience and truly values the educational process. He embraces the academic mission of the University. He knows how to build a successful program, and he loves to win!" 
The Jim Phelan National Coach of the Year in 2021, Simon inherited a program at Southern Utah that averaged 4.5 DI wins from 2013-17 and turned the Thunderbirds into a winner. Southern Utah is coming off its third-straight season with 20 or more wins with a overall record of 65-28 since the 2020-21 season. Simon was named a finalist earlier this month for the 2023 Skip Prosser Man of the Year Award, which is given annually to a head coach who not only achieves success on the basketball court, but who displays moral integrity off the court as well.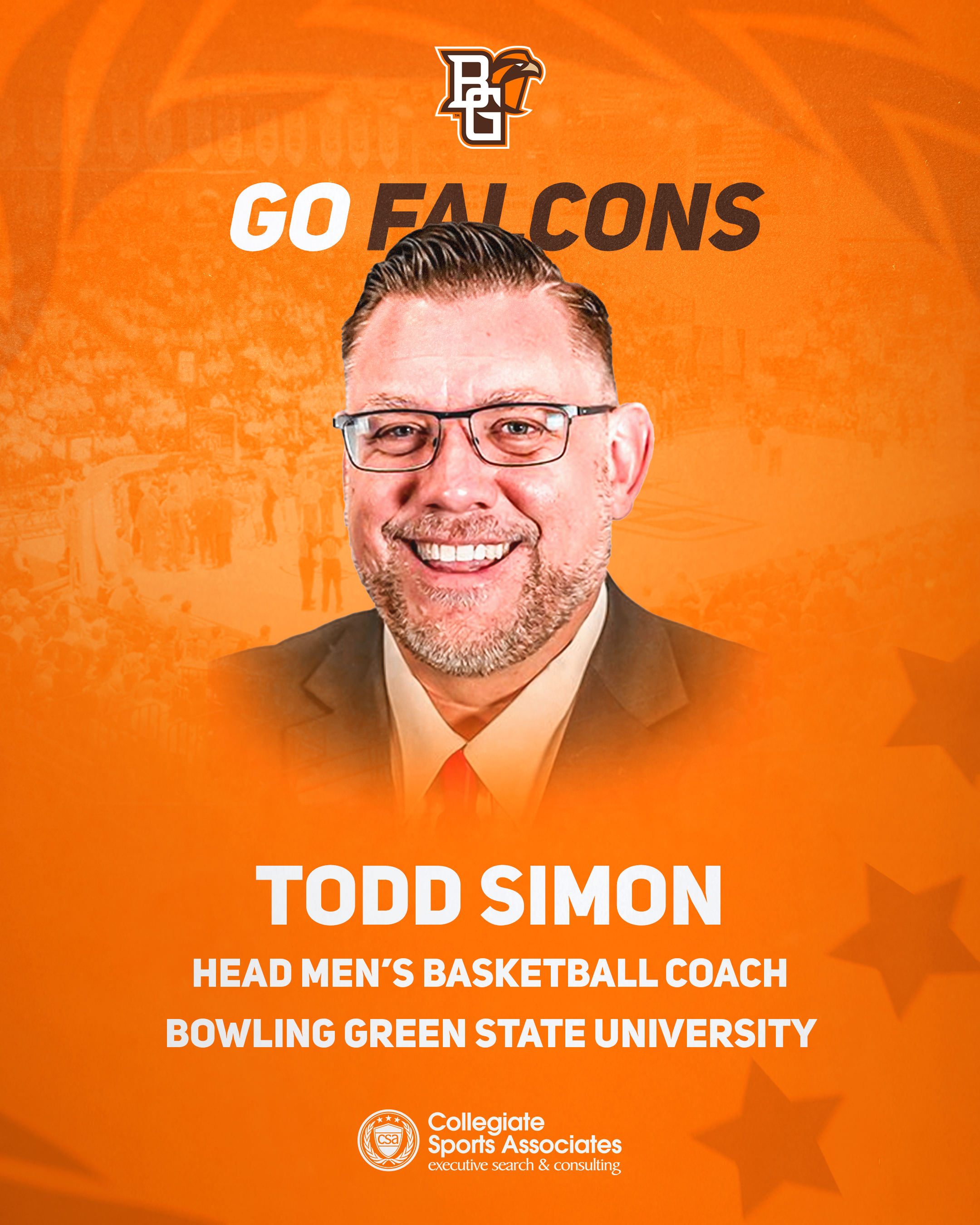 "It is an honor and a privilege to be the next head coach at Bowling Green State University," said Simon. "I am grateful to President Rogers and Derek van der Merwe for the opportunity to lead this program and be a part of this special University.
 
"My family and I look forward to being servant leaders to our student-athletes, to our campus and to the Bowling Green community. We are dedicated to developing our young men in the program both on and off the court, and we are excited to get to Bowling Green to start building relationships. We are going to bring an intense and exciting brand of up-tempo basketball to the Stroh Center and have an expectation to build one of the best home court advantages in the nation."
"Bowling Green State University is so pleased to welcome Todd Simon as our head coach of men's basketball," said BGSU President Rodney K. Rogers. "He brings established head coaching experience, an understanding of the Midwest and the Mid-American Conference and a commitment to supporting our student-athletes. I want to thank Derek van der Merwe, director of athletics, for his leadership of this national search. Together, we will continue to elevate the impact of BGSU Athletics, and I look forward to joining our students, faculty, staff, alumni and community in cheering on men's basketball in the Stroh Center later this year. Ay Ziggy Zoomba!" 
Under Simon's leadership, Southern Utah is coming off a 22-12 season and Western Athletic Conference Championship game appearance in 2023. It was Southern Utah's first season in the WAC after previously competing in the Big Sky Conference. The nation's No. 4 scoring offense in the country (82.7 ppg), Southern Utah accepted a bid to the 2023 CBI.
During the 2020-21 season Simon led the Thunderbirds to their first ever Big Sky Championship, as they were named Big Sky Conference regular season champions after finishing conference play with a record of 12-2. Along with claiming the regular season championship, Simon navigated his team to the No. 1 overall seed in the Big Sky Conference Tournament, and the first BYE to the quarterfinals that the program had ever received.
Since the beginning of the 2020-21 season, Simon has led Southern Utah to an overall record 65-28, a mark of 38-14 in the Big Sky Conference, and record of 40-5 on their home court. Prior to Simon's arrival SUU had one winning season over the previous 15 years. 
Prior to Southern Utah, Simon was named interim head coach of the UNLV men's basketball program in January 2016 and immediately led them to three consecutive victories. During Simon's 17 games, the Runnin' Rebels ranked as the number one team in the nation in adjusted tempo, scoring more than 100 points in four games. UNLV finished with a 9-8 record, despite playing with as few as five scholarship players.
Prior to being named interim head coach, Simon was in his third year as associate head coach with UNLV and had a critical role in assembling UNLV's roster, which Rivals.com ranked its 2014 recruiting class No. 5 in the nation, while the 2015 class was ranked No. 11.
Prior to his tenure as a Runnin' Rebel, Simon served Findlay Prep in Henderson, Nevada for seven years in both head and assistant coaching roles.  As head coach at Findlay Prep in 2012-2013, he led the team to a 35-1 record, including eight wins over top-25 ranked teams. The 35 victories are the most wins in school history. During Simon's tenure at Findlay Prep, they accumulated an overall record of 192-9.
During his career Simon has helped develop and coach several players that have become top NBA draft picks, including Anthony Bennett, who was selected as the top overall pick in 2013, Rashad Vaughn, who was picked No. 17 in 2015, and Avery Bradley. Other NBA player's Simon has coached in his career include Christian Wood, Jorge Gutierrez, Cory Joseph, DeAndre Liggins, Nick Johnson and Tristan Thompson.
A native of Fowler, Mich., Simon earned his bachelor's degree from Central Michigan with a double major in sport studies and management information systems in 2003. He earned his master's degree from UNLV in sport education leadership in 2010. Todd and his wife, Kati, have three sons, Rece, Raylan, Ryder and one daughter, Sophia.
For the full release from BGSU Athletics, click HERE.

Committed To Excellence
With over thirty years of experience in intercollegiate athletics, CSA delivers a unique level of service that effectively meets the needs of the nation's leading universities and conferences.