Brad Smith Named Deputy AD At UTSA
SAN ANTONIO, TX – UTSA Vice President for Intercollegiate Athletics Lisa Campos announced that Brad Smith has been named Deputy Athletics Director for External Affairs. A veteran of intercollegiate athletics for nearly two decades, he will oversee UTSA's Broadcasting, Communications, Creative Services, Marketing, Ticket Operations and Ticket Sales units.
CSA is honored to have assisted Campos and the Roadrunners on this exciting administrative search.
"I am thrilled to welcome Brad Smith to the Roadrunner Family," Campos said. "His extensive experience in leading external operations will help to continue elevating UTSA Athletics' brand while further growing our department for continued success, particularly as we embark on our first year in the American Athletic Conference."
Smith comes to UTSA from Southern Miss, where he served as Senior Associate Athletics Director for External Operations since 2019. During his time in Hattiesburg, he handled the day-to-day operations of the external units including branding and fan experience, communications, video, streaming/broadcasts, digital content and social media. In addition, he provided oversight for the softball team, band, cheer and dance programs along with serving as the primary contact for athletics branding and licensing as well as the department's primary contact for Learfield/IMG College. USM's baseball, men's basketball, women's basketball, football and softball programs all achieved increases in ticket sales. Additionally, Smith developed a creative content team and implemented initiatives that created an in-house streaming/broadcast booth that produced over 200 live events on various streaming platforms.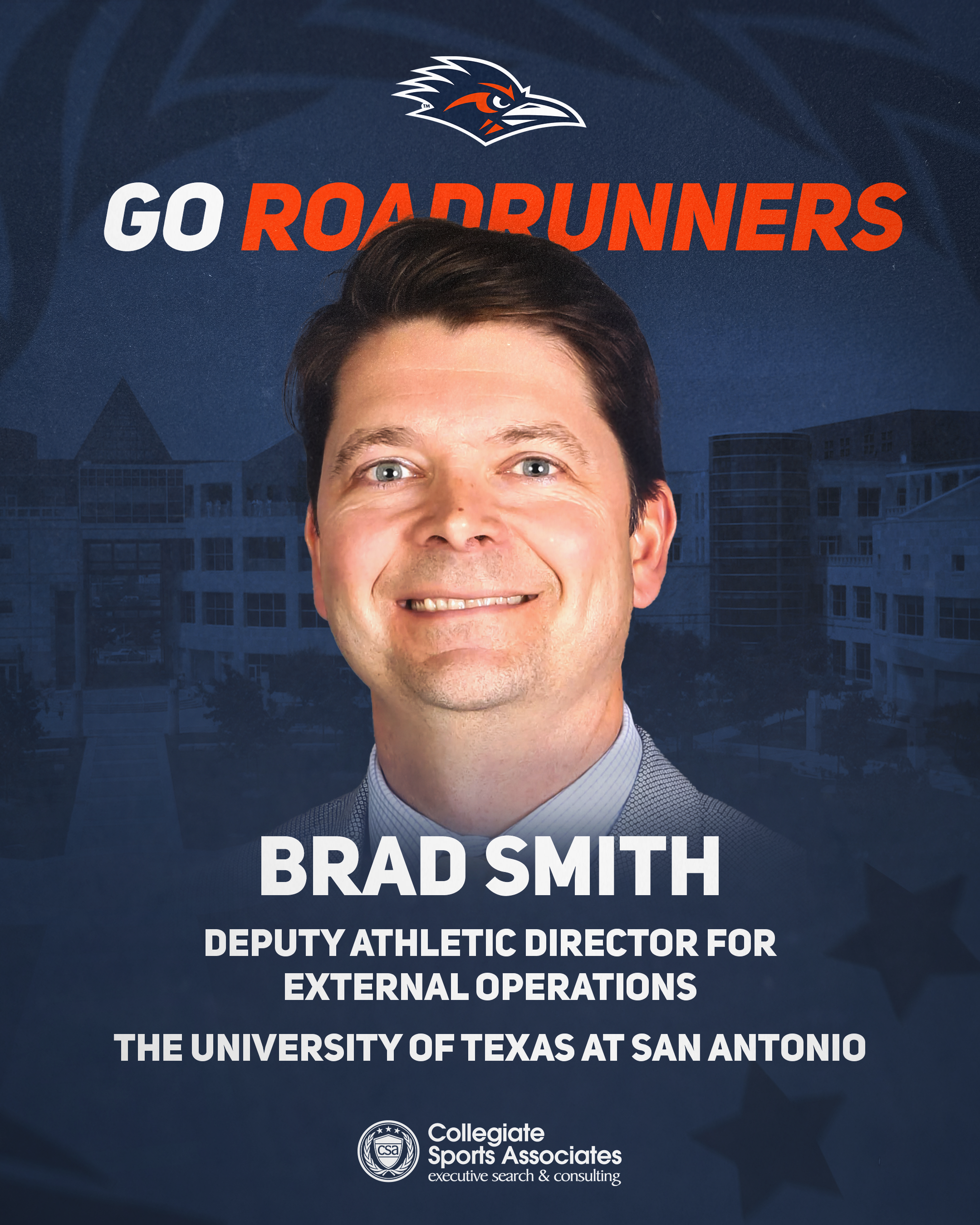 Prior to that, Smith was the Senior Associate AD for External Affairs at Morehead State from 2014 to 2019. He oversaw fundraising, corporate sponsorships, ticket sales, media relations, video production and marketing departments, while also having sport oversight responsibilities for football, cheerleading and the dance team. While at MSU, total revenue through fundraising and corporate sponsorships increased by 220 percent since 2015. He was awarded for his efforts from the National Association of Collegiate Marketing, including the 2014-15 NACMA "Best of" national award winner in the following categories: Gold Winner for best Sales Piece and Silver Winner for best Sponsorship Activation.
Born in Killeen, Texas and a native of Brookhaven, Mississippi, he got his start in the sports industry as a student volunteer in the Southern Miss Athletics Department, where he handled marketing for the women's soccer program. He later interned with ISP Sports at USM and gained valuable experience in corporate sponsorships.  
In 2003, he landed the role of Director of Marketing and Ticket Sales for the Mississippi Sea Wolves professional hockey franchise. He was in charge of management and event operations, sales, client services and fundraising. The Sea Wolves increased their attendance by 22 percent as a result of his new ticket sales plans.
In 2005, Smith moved into college athletics as Assistant AD for Marketing and Promotions at Middle Tennessee, where he worked until landing the Director of Marketing role at Texas A&M in 2010-11. 
Smith then served as Assistant AD of Marketing at UAB from 2011 to 2013. He directed ticket sales, community relations, licensing, marketing and promotions, video board operations, social media efforts and a partnership with IMG Collegiate Marketing
Smith earned his bachelor's degree in business administration from Southern Miss, his master's degree in sport management from Morehead State and his doctorate degree in higher education from Southern Miss.
Smith and his wife, Melanie, are parents to sons Grayson (15) and Garrett (7).
For the full release from UTSA Athletics, click HERE.

Committed To Excellence
With over thirty years of experience in intercollegiate athletics, CSA delivers a unique level of service that effectively meets the needs of the nation's leading universities and conferences.