Cal Selects Mark Madsen As Next Men's Basketball Head Coach
BERKELEY, CA – Mark Madsen, a two-time NBA champion with East Bay roots and a proven track record as both a college and professional coach, has been named the 19th head coach in California men's basketball history, Director of Athletics Jim Knowlton announced Wednesday.
CSA is grateful to have assisted Knowlton, Chancellor Carol Christ and the Golden Bears on this crucial search. 
"I could not be more excited to welcome Mark, his wife Hannah, and their children to the Cal Family," Knowlton said. "We conducted an exhaustive search, and one name kept rising to the top – and that's Mark Madsen. Mark is a person of high character, high energy, high intensity, and he's done it the right way. He's intense. He's passionate. He loves his student-athletes, and he loves competing. We want an ambassador for this program who is going to make us proud and develop our young men – both on and off the court. I am absolutely thrilled that Mark will lead our program into the future."
After a decorated playing career which included a trip to the NCAA Final Four at Stanford and two NBA titles while playing for the Los Angeles Lakers, Madsen is considered a rising star in the coaching ranks, having most recently led Utah Valley to the semifinals of the 2023 NIT. Madsen was named the 2023 Western Athletic Conference Coach of the Year and led the Wolverines to a pair of conference titles during his four seasons at the helm.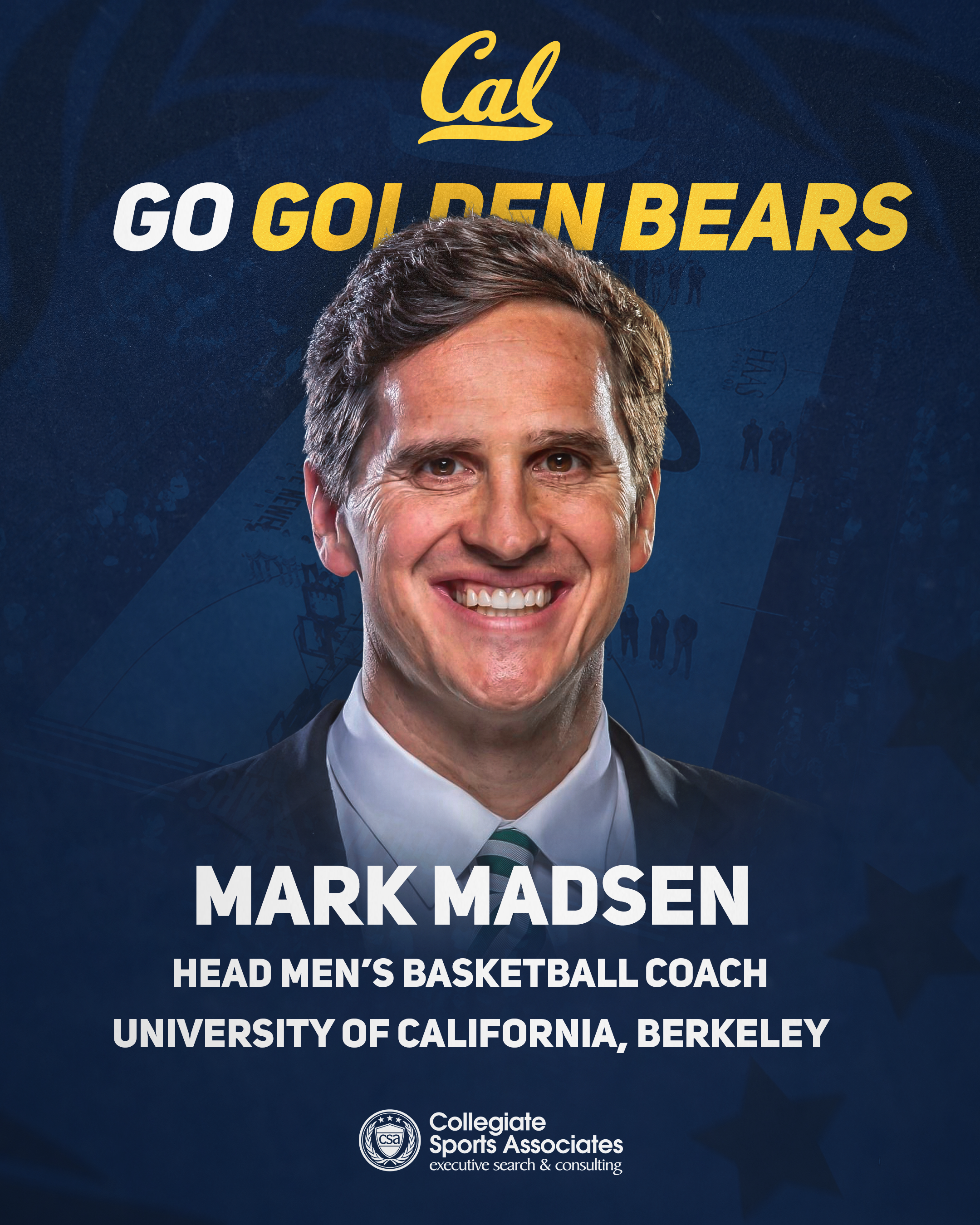 "I am extremely grateful to Chancellor Christ and Director of Athletics Jim Knowlton for their belief in me, and for the tremendous opportunity to lead Cal's men's basketball team back to its winning tradition," Madsen said. "Having grown up in the area, I have always admired Cal as an institution and as an athletic program, with so many of my teachers, coaches and friends impressive Cal graduates. We will win with young men who have elite academic and athletic talent and who will represent Cal with pride. Hannah and I and our children are excited to return to the Bay Area and join the Cal community and I cannot wait to get started. Go Bears!"
Madsen spent six seasons as an assistant coach for the Los Angeles Lakers (2013-19) prior to leading Utah Valley. During his time on the Los Angeles bench, he coached NBA superstars LeBron James, Kobe Bryant and Steve Nash, among others. He also played alongside some of the NBA's greatest players, including Bryant, Shaquille O'Neal and Kevin Garnett. Following three seasons played with the Lakers (2000-03), Madsen played six further seasons with the Minnesota Timberwolves.
Madsen's first coaching position came as an assistant coach for the Utah Flash of the NBA Development League during the 2009-10 season. He later returned to his alma mater to earn an MBA from the Stanford Graduate School of Business in 2012 and spent the 2012-13 season as an assistant coach for the Cardinal, working in recruiting, opponent game planning and player development.
A 2019 Stanford Athletics Hall of Fame inductee, Madsen earned All-America honors twice while helping lead the Cardinal to four NCAA Tournament appearances – including the 1998 Final Four – in as many seasons played from 1996-2000. He averaged 10.9 points and 7.0 rebounds per game in his Stanford career and ranks fourth in field goal percentage (.587) and sixth in rebounds (857) in program history. Madsen earned an undergraduate degree in economics from Stanford in 2000.
Madsen earned the nickname "Mad Dog" for his aggressive style of play during his early playing days at San Ramon Valley High School in Danville and at Stanford. He served a two-year mission for The Church of Jesus Christ of Latter-day Saints in Spain. Madsen and his wife, Hannah, have two sons, William and Leroy, one daughter, Alexandria and a child who is due any day.
For the full release from Cal Athletics, click HERE.

Committed To Excellence
With over thirty years of experience in intercollegiate athletics, CSA delivers a unique level of service that effectively meets the needs of the nation's leading universities and conferences.