Collegiate Sports Associates Enters New Era with Drew Turner as President
RALEIGH, North Carolina – Drew Turner has been named President of Collegiate Sports Associates (CSA), effective January 2023.  Turner began his career with CSA in 2019 as Vice President and COO after nine years on campus as an athletics administrator most recently serving as the Associate Athletics Director for Development at Old Dominion University.  Since joining CSA four years ago, Drew has helped position the firm as one of the leading executive search and consulting firms in intercollegiate athletics, effectively managing 175 executive search and consulting projects during that time.  
He succeeds CSA Founder Todd Turner, who will transition his role and serve as Chairman of the firm.  Turner founded Collegiate Sports Associates in 2010 after serving for more than 30 years on five D1 campuses including 21 as Director of Athletics at Washington, Vanderbilt, NC State, and UConn.
"I am extremely proud of what our team at CSA has accomplished," said new CSA President Drew Turner.  "I'm particularly proud of my father, Todd Turner who launched a start up search and consulting firm from his living room with nothing but a laptop and a rolodex of relationships that come from a 30+ year career working in college athletics. He built CSA into one of the most prominent search and consulting firms in this industry."  
"Since joining CSA, we've worked to modernize our operations and enhance our brand while not forgetting the values upon which our firm was founded.  We are college athletics practitioners who lead a premier search and consulting firm. We believe in the industry in which we work and are passionate about what college athletics does for our society.  As the company looks to the future, we will continue to be innovative and creative, but we will also remain committed to the values that defined CSA from its beginning – a firm built by college athletics professionals who have real-life, on-campus experience which enables us to provide unmatched levels of expertise to our clients."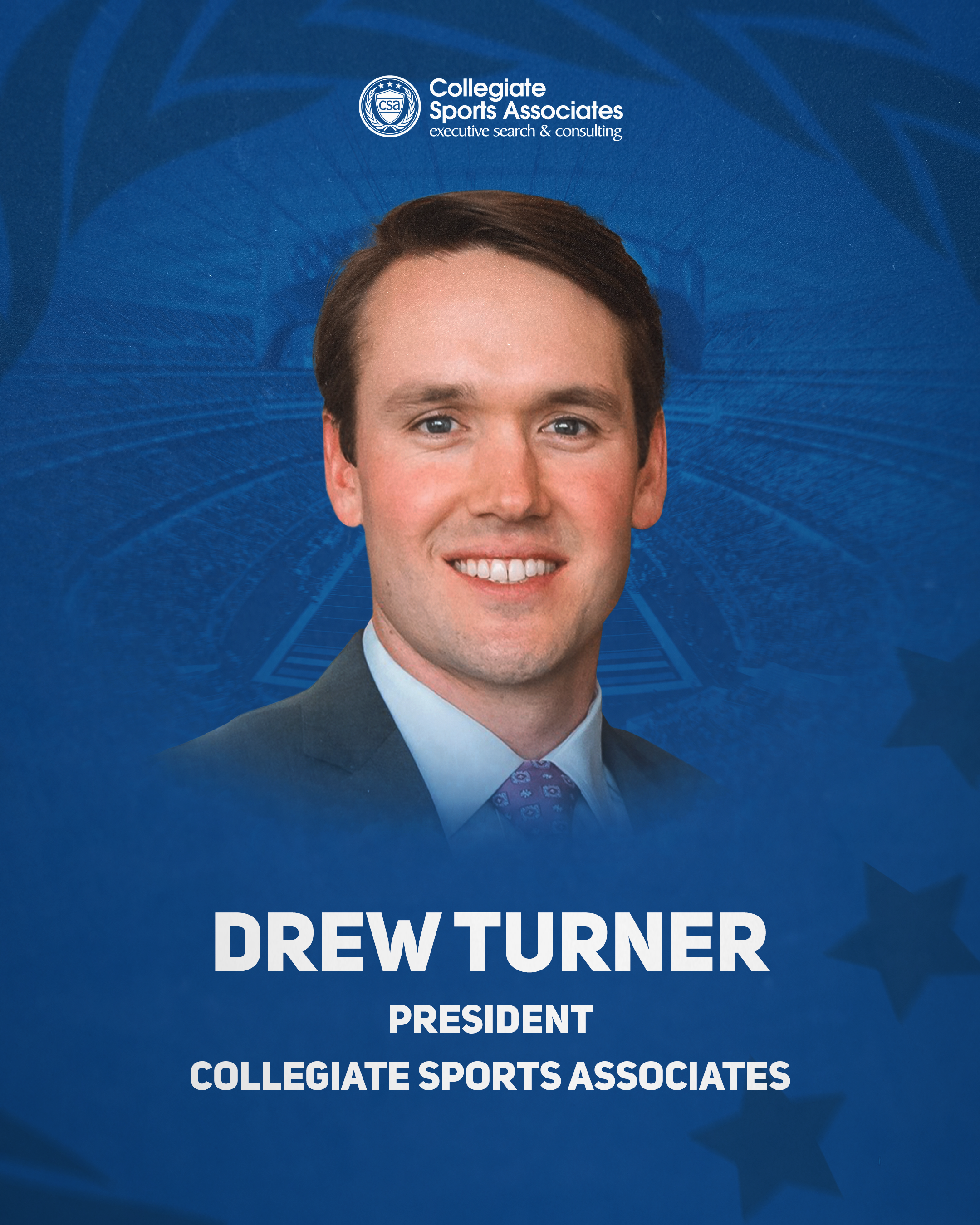 The numbers tell the story of Drew's impact on CSA as the company has experienced unprecedented growth since his arrival.  The four most successful years in the company's 12+ year history have all come during Drew's tenure.  In 2021, the company set a record for projects completed and revenue generated in a calendar year which represented a 79% increase from the company's previous banner year. The impact of his leadership is particularly evident on the company's executive search practice as CSA has led more searches (103) in the past four years than the firm had led in the 9 years prior to his arrival (2010-18).  Of those 103 search projects, 33 have been for Directors of Athletics, 20 for Head Football coaches, an additional 20 for Head Men's Basketball coaches, 7 for Head Women's Basketball coaches, and the final 23 for either Olympic sport head coaches or senior level administrators. Since 2019, no executive search firm in the country has placed more Division I FBS ADs than CSA.
As Chairman, Todd Turner will remain intimately involved and will continue to work on search and consulting projects, client relationships, and overall company strategy. 
"Since its founding, Collegiate Sports Associates' guiding principle and commitment has been to serve and support the industry that has defined each of our team members professionally", said CSA Founder and out-going President Todd Turner.  "For all of us at CSA, college athletics is more than our profession.  It is our passion.  Drew grew up in and has now worked in this dynamic enterprise for over a decade, learning and knowing the value of what good leadership can mean to a team, athletic department, or university.  He has proven to be a successful, experienced leader and a fierce competitor, yet a true teammate dedicated to serving CSA's university partners and the enterprise of college athletics.  He has earned this opportunity demonstrating a level of professionalism and leadership that will serve CSA and our many university partners for years to come."
ABOUT COLLEGIATE SPORTS ASSOCIATES
CSA was Founded in 2010 by former Director of Athletics Todd Turner to provide executive search and consulting services to NCAA institutions and their athletics programs.  With over 275 projects completed to date, CSA has become one of higher education's most active and respected consulting and executive search firms.  The CSA team has many decades of campus experience, including over 50 years as NCAA D1 Directors of Athletics.  For more information on the entire CSA team please visit www.collegiatesportsassociates.com.   
In 2021 Todd and Drew Turner co-founded CSA's sister company, Collegiate Sports Connect, which was built in collaboration with D1.ticker and WMT and continues to grow as the digital home for college athletics.  Together, CSA and CS Connect provide unmatched service to the collegiate sports world by connecting people with opportunities.

Committed To Excellence
With over thirty years of experience in intercollegiate athletics, CSA delivers a unique level of service that effectively meets the needs of the nation's leading universities and conferences.