Collegiate Sports Associates Names Marcy Lanoue As Vice President and Chief of Staff
(RALEIGH, NC)
Collegiate Sports Associates President Drew Turner announced today the addition of industry leader and longtime athletics administrator Marcy Lanoue as Vice President and Chief of Staff.
"Collegiate Sports Associates was founded upon the desire to support our colleagues across the intercollegiate athletics and higher education landscape and today, our team grew stronger with the hire of Marcy Lanoue," Turner said. "I am thrilled to welcome Marcy to CSA and am confident that her experience as an on-campus practitioner and senior administrator will enable our team to provide an unmatched level of service and expertise to our clients."
Lanoue, who most recently served as Senior Associate Director of Athletics, Chief Development Officer and Senior Woman Administrator at the University of San Diego, joins CSA as it continues an unprecedented growth trajectory. Since 2020, CSA has led over 125 executive search projects, an industry-leading 36 Division I Director of Athletics searches, and dozens of consulting projects such as strategic plans and program reviews.
"A special thank you to Todd and Drew Turner and the rest of the CSA team for the opportunity to join the most innovative, service-oriented and established search and consulting firm in college athletics," Lanoue said. "Most importantly and luckily, I will be able to work with some of the best people in the business. Having spent my entire career on campus, I am excited for the new challenge of making a grander impact in our industry and helping transform people's lives and professional experiences."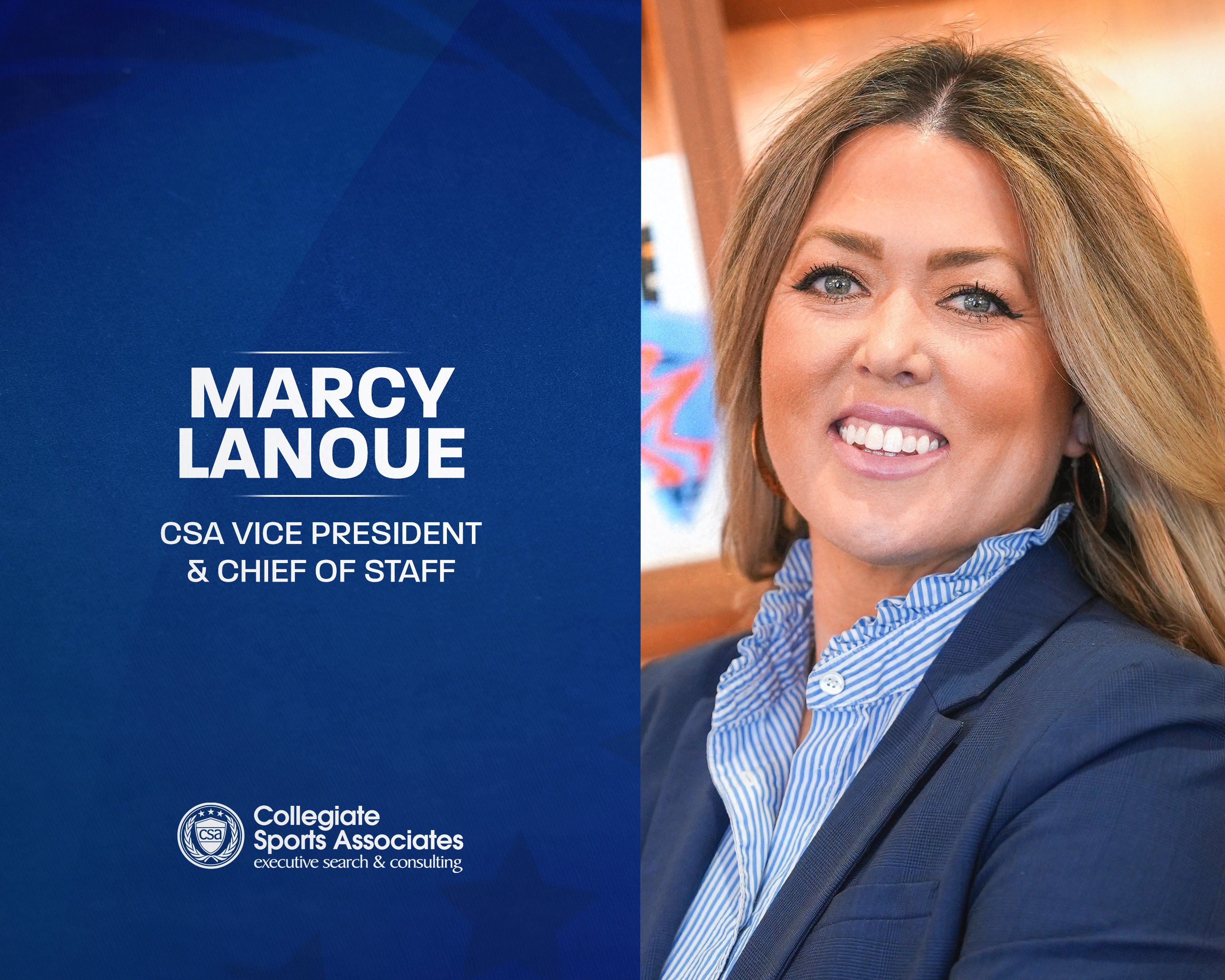 During her six years with the Toreros, Lanoue led the marketing, sales, communications, branding, and fundraising units while also serving as the department's liaison with stakeholders from the NCAA, West Coast Conference, and university Board of Trustees. As a member of USD's Executive Leadership team, Lanoue served all 17 Division I sport programs and helped facilitate their success through administrative support. In her role, she was a champion for DEI and Title IX initiatives and had significant involvement in developing the department's strategic plan. In addition, she was selected to serve on the University's Strategic Planning Committee. Prior to her time in San Diego, Lanoue served as the Associate Athletics Director of Development at the University of Southern Mississippi, where she was charged with increasing fan and alumni engagement and overseeing a portfolio of major gift and annual gift individuals, as well as leading premium seating sales and management for Southern Miss Football. Lanoue also had stops at the University of South Florida, where she worked in development and external affairs, and the University of Miami, where she specialized in events and ticket operations. Lanoue began her administrative career as Executive Assistant to the Director of Athletics at the University of South Florida, assisting with various functional duties in the areas of Human Resources, Sport Administration, and NCAA Committees and Championships. Lanoue is a member of the National Association of Athletic Development Directors, currently serving as an Executive Committee member, Women Leaders in Sports, and the Council for Advancement and Support of Education. Her involvement within collegiate athletics began as a Woman's Soccer student-athlete at the University of Louisiana-Lafayette. Lanoue holds a Bachelor of Arts in Communication degree from the University of South Florida and is completing a Master of Arts in Leadership Studies degree from the University of San Diego.
What They're Saying About Marcy Lanoue
"Congrats to Collegiate Sports Associates on an absolutely brilliant hire. Marcy Lanoue is an amazing woman and extraordinarily talented and dynamic leader who will be an incredible asset to CSA and its current and future partners. Marcy has made a tremendous impact
everywhere she's been and she will undoubtedly continue to do so from here on out. Her positive energy and gift of bringing joy to others make her a terrific match with Drew Turner and the CSA leadership team and will be felt on campuses throughout the country in this new role."
"I am thrilled that Collegiate Sports Associates has hired Marcy Lanoue. Marcy is well respected in our industry and with her experience, passion, ability to connect with people and her hard work she will be another outstanding member of the CSA team."
"Marcy is a terrific addition at CSA, and kudos to Drew Turner for making an outstanding hire. Marcy's extensive connections and years of experience in the industry and on campus will prove invaluable during the searches that she leads. We are super excited to continue working with Marcy in her new role."
"Marcy Lanoue has proven herself as a trusted and valuable leader in this industry. Her leadership as an Executive Committee Member of the National Association of Athletic Development Directors (NAADD) has reinforced that leadership. Marcy's overall experience and skillset along with the compassion for people and the service oriented mindset she has will serve her well in this new role with CSA. As our industry continues to evolve and the challenges of advancing and retaining staff remain at the forefront, talented professionals like Marcy will continue to provide a much needed service to our colleagues. CSA is getting a superstar and I am so proud of her!"
About Collegiate Sports Associates
CSA was founded in 2010 by former Director of Athletics Todd Turner to provide executive search and consulting services to NCAA institutions and their athletics programs. With over 275 projects completed to date, CSA has become one of higher education's most active and respected consulting and executive search firms. The CSA team has decades of on-campus experience, including over 50 years as NCAA D1 Directors of Athletics. For more information on the entire CSA team please visit www.collegiatesportsassociates.com.
In 2021 Todd and Drew Turner co-founded CSA's sister company, Collegiate Sports Connect, which was built in collaboration with D1.ticker and WMT and continues to grow as the digital home for college athletics. Together, CSA and CS Connect provide unmatched service to the collegiate sports world by connecting job seekers at all levels with their next career opportunities.

Committed To Excellence
With over thirty years of experience in intercollegiate athletics, CSA delivers a unique level of service that effectively meets the needs of the nation's leading universities and conferences.