CSA Announces Mock AD Search at Social Distance University (SDU)

WEST END, NC – The Collegiate Sports Associates (CSA) leadership team has announced a new professional development initiative.  As part of the previously launched Learning from a Social Distance webinar series, the CSA team will create a professional development program that gives senior level aspiring Directors of Athletics the opportunity to experience a mock AD search process.
Since its founding in 2010, CSA has conducted 40 Director of Athletics searches in intercollegiate athletics including nine (9) AD searches in the past 12 months.  What we have found from our experience is that for many first-time candidates, the AD search process is a bit of a mystery.
"We know this is a difficult time for a lot of people.  Our team at CSA has been working to create unique and fun professional development opportunities for leaders in our industry."  said CSA President and Founder, Todd Turner. "We're excited to launch this new project and give people the chance to experience what it's like to go through the critical AD search process."
*Update* After review and evaluation of the applicant pool, CSA announced three (3) finalists that will participate in a personalized mock interview with the SDU AD search committee consisting of the CSA executive team and leaders from intercollegiate athletics and higher education.
Those three finalists are Tulane's Mónica Lebrón, UCF's Mark Wright, and Army West Point's Dan McCarthy. These live interviews will take place on consecutive days from May 5th to 7th. 
Webinar participants will be invited to evaluate and provide feedback to the CSA team after each candidate interview.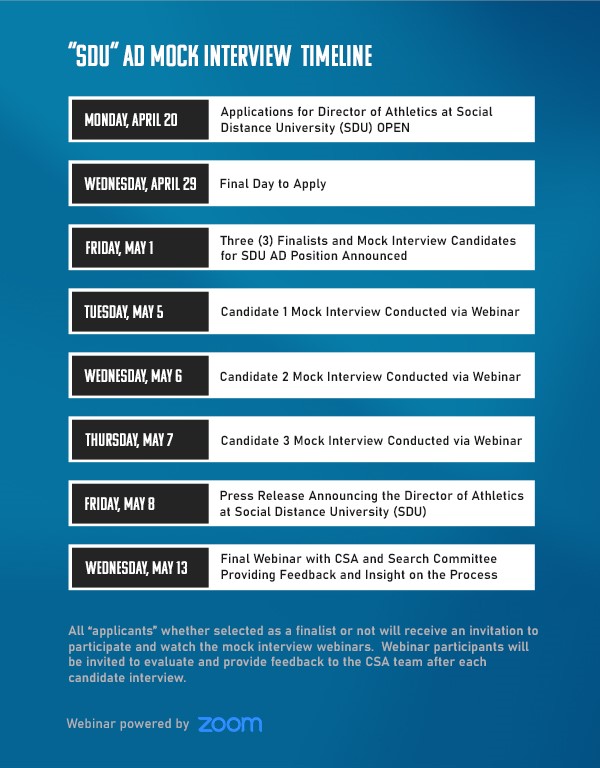 Social Distance University (SDU)
Director of Athletics Search Committee
Mr. Todd Turner – President and Founder, CSA
President, Social Distance University (SDU) COMMITTEE CHAIR
Dr. Brad Bates – Vice President, CSA
Dr. Erianne Weight – Co-Director Center for Research in Intercollegiate Athletics, UNC-Chapel Hill
Director of Sport Management Graduate Program and FAR (SDU)
Mr. Tyrone Willingham – Ret. Head Football Coach, Washington, Notre Dame and Stanford
Head Football Coach, (SDU)
Mr. Drew Turner –  Vice President, CSA
SDU Donor and President of the Quarantine Club (Athletic Fundraising Organization for SDU)
Mr. Jim Miller –  Consultant, CSA
Philanthropist and SDU Board of Trustees
Mr. Clay Pfeifler – Director of Operations, CSA
Student-Athlete (M Tennis), President of SAAC (SDU)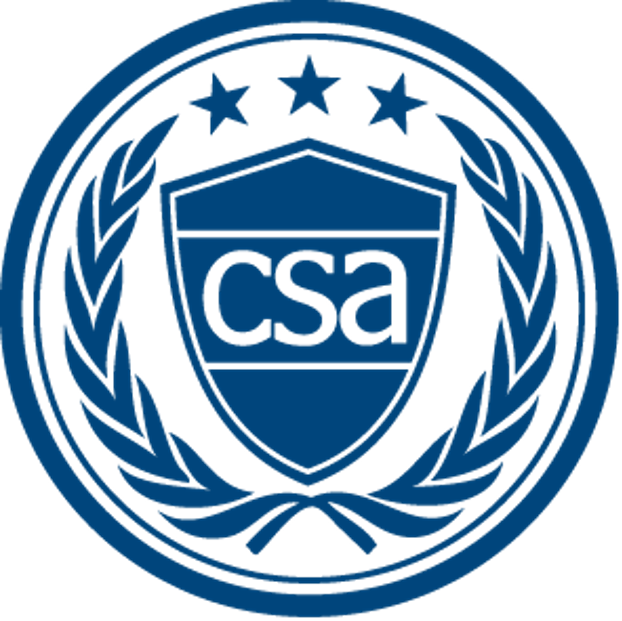 Committed To Excellence
With over thirty years of experience in intercollegiate athletics, CSA delivers a unique level of service that effectively meets the needs of the nation's leading universities and conferences.