Collegiate Sports Associates Appoints Drew Turner as Vice President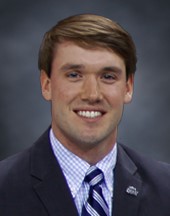 WEST END, NC. – Collegiate Sports Associates (CSA) President and Founder, Todd Turner announced today a new addition to the CSA management team.
Drew Turner has been named Vice President for Business Development and Finance.  Turner joins CSA after a six-year stint at Old Dominion University (ODU) where he most recently served as Associate Athletic Director for Development. Prior to ODU, Turner held athletic fundraising positions at Duke University and the University of South Carolina.
He is a graduate of the University of South Carolina and earned an MBA from Old Dominion.
"Since our founding in 2010, we have created a collegiate consulting and executive search practice built upon our belief that campus experience is essential to providing the very best services to our collegiate clients", said CSA Founder Todd Turner.  Drew grew up around college athletics and has quickly developed into an effective campus sport administrator, development officer, and emerging leader in college athletics. He has a unique ability to quickly build long-lasting relationships and a tireless work ethic that will carry us forward as we continue to grow Collegiate Sports Associates."
During his time with ODU Athletics, Turner managed the Monarchs external fundraising team where he helped lead the Old Dominion Athletic Foundation (ODAF) to back to back record fundraising years.  In addition to these primary duties, Turner chaired the ODAF's $40M athletics fundraising campaign, served as a member of the executive committee for the $70M renovation of S.B. Ballard Stadium, was a member of the President's $250M university campaign steering committee, the Athletic Director's and Vice President's senior leadership teams, and was the sport administrator for several ODU varsity sports programs.
In his role with CSA, Turner will serve as a member of the senior management team and assist in developing and implementing strategies to ensure the company's growth focusing primarily on client relations. As Vice President for Business Development and Finance, Turner will be responsible for developing new business opportunities for CSA and for the company's daily business functions.  In addition, he will support all CSA projects identifying potential candidates for positions represented by CSA, participating in a support role for executive searches, and assisting with consulting projects.
When commenting on his new role, Turner had this to say: "I would first like to thank my colleagues at Old Dominion University (ODU) for an unbelievable six years.  The experience I had at ODU during my time was invaluable to both my professional and personal growth.  We had a tremendous team and achieved some great things. Looking forward, I am excited to begin working with Collegiate Sports Associates.  The opportunity to learn from and work with the extraordinary team at CSA was one that I could not pass up. I look forward to helping CSA continue on their trajectory of success and working to make CSA the preeminent consulting and search firm in higher education."
Turner will officially start with CSA on June 1, 2019.

Committed To Excellence
With over thirty years of experience in intercollegiate athletics, CSA delivers a unique level of service that effectively meets the needs of the nation's leading universities and conferences.