Duke Names Omar Elgeziry As Head Fencing Coach
DURHAM, NC – Duke University Vice President and Director of Athletics Nina King announced the hiring of Omar Elgeziry(pronounced "el-gez-ee-ri") as the head coach of the fencing program. Elgeziry succeeds Alex Beguinet, who announced his retirement in April after being at the helm of the Blue Devils for nearly four decades.   
CSA is grateful to have assisted King and the Blue Devils on this exciting search.
"We are extremely excited to have Omar Elgeziry as our new head fencing coach," King said. "His unwavering commitment to the student-athlete experience and deep-rooted passion for the sport of fencing, coupled with an infectious energy, make him a tremendous fit for both Duke Athletics and the entire Duke community. I am confident Omar is the right choice to build upon the program's sustained remarkable achievements and that he will continue to cultivate a legacy of continued excellence for the Duke Fencing program."
A former Olympian, Elgeziry comes to Duke after spending four seasons as the head coach at the Air Force Academy. He also served two seasons as the assistant coach at Cornell. 
"I want to express my gratitude for the warm welcome I've received from the athletic department," Elgeziry said. "It's an incredible honor to join such a prestigious program and proudly represent the Duke brand. I'm filled with excitement and eagerness for the journey ahead. Stepping into the legendary Alex Beguinet's shoes brings excitement and responsibility, but I'm ready to embrace the challenges and build upon Alex's strong foundation."
In 2022-23, he guided the program to an 11th place finish at the NCAA Fencing Championships with 43 points, both being the top marks for a Mountain Pacific Sports Federation (MPSF) program. Its 11th-place finish was the second best at Air Force since 2003.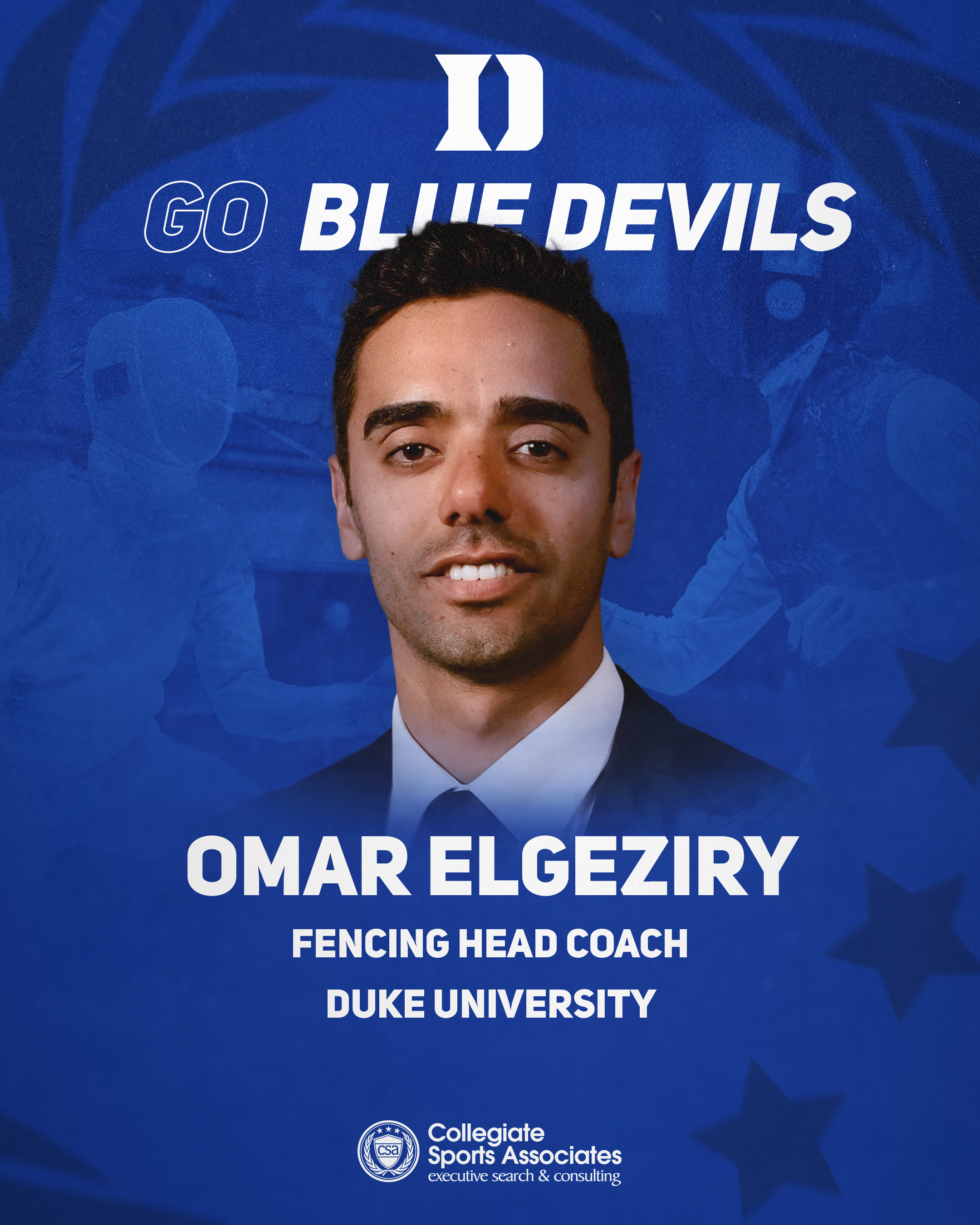 Air Force had a program-record 10 NCAA qualifiers in 2020-21, including two All-Americans. Elgeziry earned 2021 Western Fencing Conference Coach of the Year recognition for the second consecutive year and was a 2021 USFCA Fencing Head Coach of the Year finalist.  
At Cornell, Elgeziry helped the Big Red to reach new heights. The 2018-19 team had two individuals finish in the top 10 of their respective weapon, while the team's 14th-place finish was its highest in the NCAA era. Elgeziry helped freshman Megan Eno become just the fourth fencer in Big Red history to earn first-team All-Ivy honors when she placed third overall in the epee competition at the 2019 Ivy League Fencing Round-Robin. Eno went on to win silver at the Northeast Regional, and captured honorable mention All-America honors with a ninth-place finish at the NCAA tournament.
He spent one year as the national epee coach for USA Pentathlon, after serving as an assistant coach and administrator for the Egypt Modern Pentathlon Olympic team from 2014-17. Elgeziry went on to make history as the first Olympic coach to qualify for the same Olympic Games as an athlete, as he finished 23rd overall with 1,403 points.
A world-class athlete, Elgeziry has competed in and medaled in more than 50 modern pentathlon and fencing events, including a silver medal at the 2016 Pentathlon World Cup #2 in Rio De Janeiro and a fourth-place finish at the 2016 Pentathlon World Championships in Moscow.
As a fencer, Elgeziry is a two-time senior Egyptian champion in epee (2010, 2011). He also won a gold medal in epee at the Junior World Cup in Egypt in 2005, after a fifth-place finish the previous year.
A native of Cairo, Egypt, Elgeziry began coaching shortly after arriving in the United States, acting as a private fencing coach in Florida and founding the Sunshine Region Modern Pentathlon Club. Elgeziry obtained a bachelor's degree in civil engineering from Ain Shams University in 2008. Elgeziry is married to Chiara Tranquilli, a foil fencer from Italy. Their journey began when they crossed paths at the World Cup in Rome, Italy.  
For the full release from Duke Athletics, click HERE.

Committed To Excellence
With over thirty years of experience in intercollegiate athletics, CSA delivers a unique level of service that effectively meets the needs of the nation's leading universities and conferences.