Elon Names Jennifer Strawley As Next Director Of Athletics
ELON, NC – Elon University President Connie Ledoux Book announced the hiring of Jennifer Strawley as the university's 20th Director of Athletics. Strawley, currently the Senior Deputy Director of Athletics at the University of Miami, will be formally introduced to the community and media at a campus event on July 21. She will officially begin her tenure at Elon on August 1.
CSA is honored to have assisted President Book and Search Committee co-Chairs Jon Dooley and Wes Elingburg on the search. 
"We are thrilled to complete our national search and welcome Jennifer Strawley and her family to Elon University," said President Book. "Jenn stood out in the search process as a strategic and visionary leader who is dedicated to the enhancement of the student-athlete experience and the holistic development of student-athletes."
"I want to thank President Book and the entire search committee for this tremendous opportunity. I am humbled and honored to join the Elon family," said Strawley. "I look forward to working with the incredible student-athletes, coaches, staff, faculty, university leadership and greater campus community to create a transformative student-athlete experience where student-athletes continue to excel academically, achieve excellence in competition and are prepared for a life of impact beyond their days at Elon."
Strawley oversaw all day-to-day operations of the athletics department at Miami, where she has worked since 2012. She served as Interim Director of Athletics from November to December 2021 and was the sport administrator for football and women's basketball, as well as the department's Senior Woman Administrator. Strawley also played a key role in the hiring of multiple head coaches.
She transformed and improved many aspects of Miami athletics, including creating a performance, health and wellness department, enhancing competitive success, improving facilities, ensuring academic achievement, increasing fundraising and implementing many priorities to enhance the student-athlete experience. In 2021, Strawley was named the Women's Basketball Coaches Association Administrator of the Year.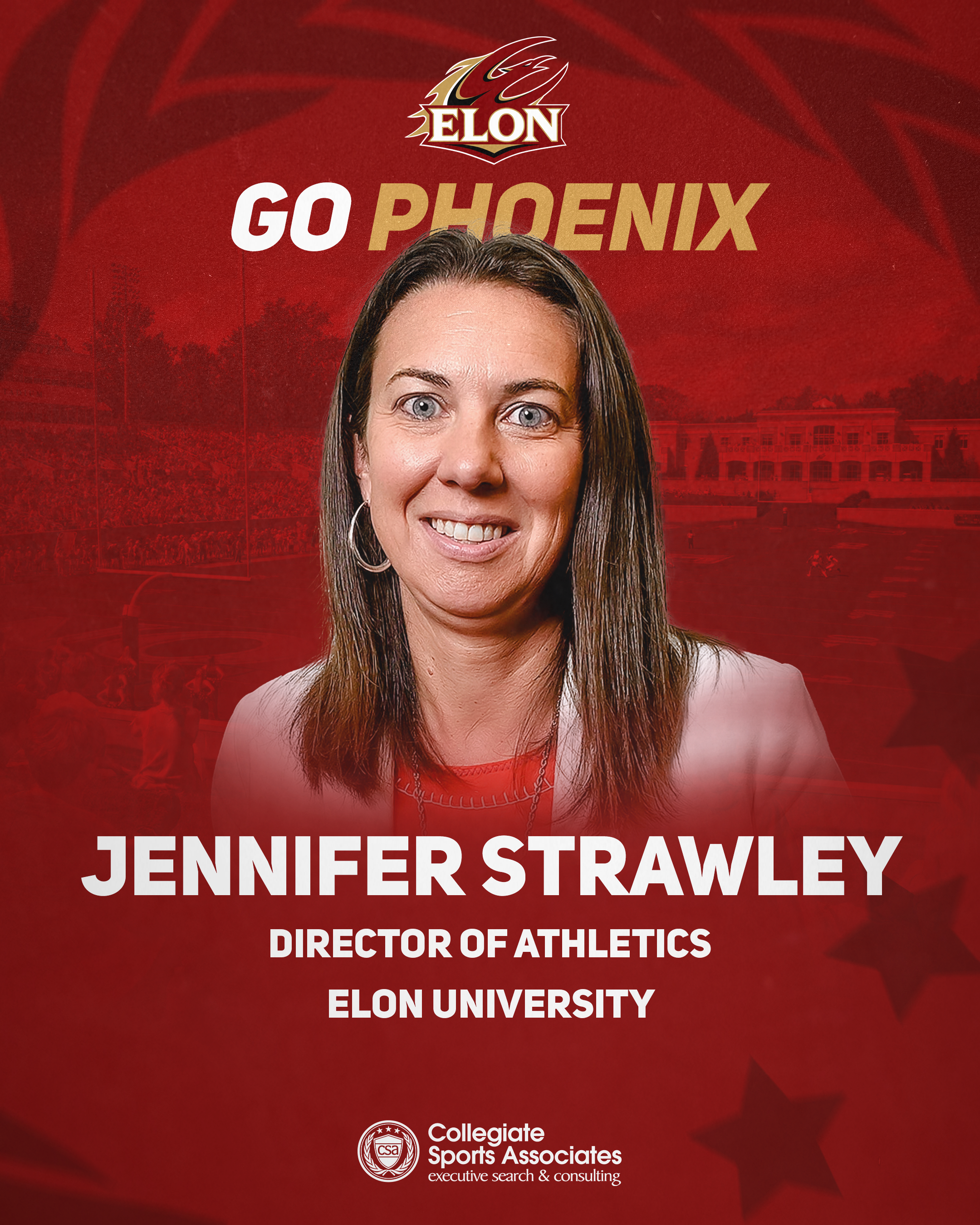 "Having interacted with Jenn throughout the interview process, we could not be more excited to introduce her to the Elon community," said search committee co-chairs Jon Dooley, Elon University Vice President for Student Life, and Wes Elingburg, Elon University Trustee. "Student-athletes, coaches, faculty, staff and fans will be impressed with the focus, work ethic, values and experience Jenn brings to Elon, and we look forward to the continued success of Phoenix Athletics under her leadership."
Strawley has been a national leader in college athletics serving on various committees within the NCAA and the ACC, including the NCAA Strategic Vision Committee, the NCAA Women's Basketball Oversight Committee, the NCAA Championships Finance Review Working Group, the NCAA Football Recruiting Working Group and the NCAA Men's Basketball Non-Scholastic Working Group. In addition, Strawley has served on the ACC Board of Directors as the chair of the ACC Senior Woman Administrator group, the ACC Television Committee, the ACC Equity Committee, the ACC Infractions and Sportsmanship Review Committee and the ACC Football Schedulers Group. She has also served on the Board of Directors for Women's Leaders in College Sports and currently serves on the Board of Directors for the Women's Basketball Coaches Association (WBCA).
Prior to her time at Miami, Strawley worked for the NCAA as the Director of Academic and Membership Affairs. In this role, she oversaw academic policy and governance issues, academic education, and the internal inclusion team. She began her career at the NCAA managing student-athlete reinstatement and eligibility, and serving as a liaison to multiple committees within the NCAA governance structure.
Between her two stints at the NCAA, Strawley worked at Columbia University, where she was the Associate Athletics Director for Intercollegiate Sports Programs and the Senior Woman Administrator, holding sport supervision responsibilities and providing oversight for Title IX and gender equity issues, among other duties.
As an undergraduate student-athlete at the University of Pennsylvania, Strawley played softball, serving as a two-year team captain. She graduated in 1998 with a bachelor's degree in history and a minor in sociology. She earned her master's degree in sports administration from the University of Miami in 2021. She is a 2014 inductee into the William Tennent High School Athletics Hall of Fame.
For the full release from Elon Athletics, click HERE.

Committed To Excellence
With over thirty years of experience in intercollegiate athletics, CSA delivers a unique level of service that effectively meets the needs of the nation's leading universities and conferences.