James Madison Names Mark Byington Men's Basketball Head Coach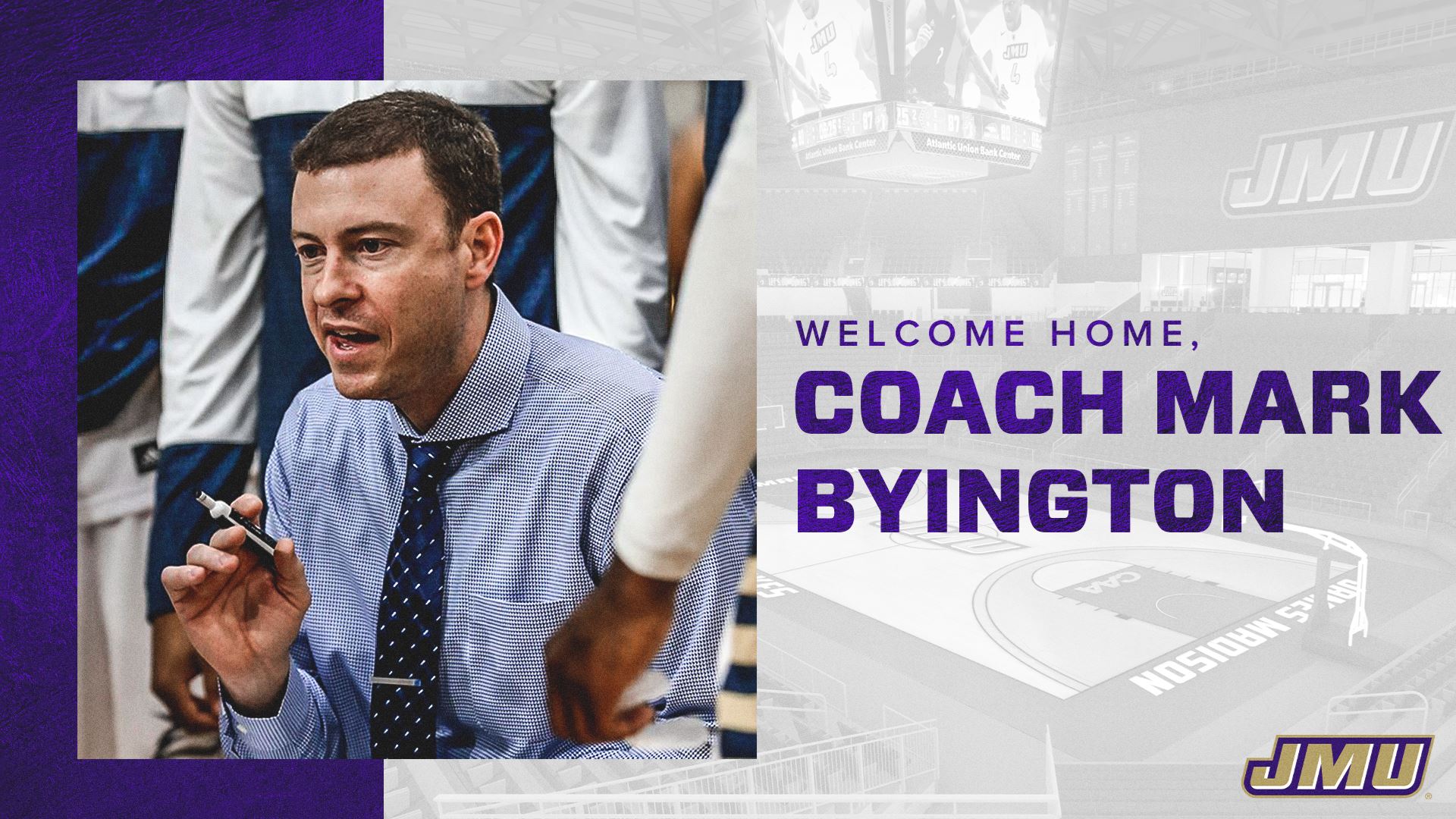 HARRISONBURG, VA.  – James Madison Director of Athletics Jeff Bourne has named Mark Byington as the 11th men's basketball head coach in program history, as announced by the school on Friday.
Collegiate Sports Associates was honored to assist James Madison University and Director of Athletic Jeff Bourne on the search.
"Mark Byington made an immediate, positive impression and quickly stood out as the best fit to lead James Madison men's basketball," Bourne said. "Coach Byington is very cerebral in his approach. He knows the game, he knows what it takes to lead a winning Division I program and he knows how to lead and impact student-athletes to be successful both on the court and in life. He demonstrated a deep knowledge of our program and our current student-athletes, and he has a plan to lead JMU to the top of our conference, to win championships and to lead us back to postseason play. We are excited to welcome Coach Byington to Harrisonburg!"
A native of Salem, Va., Byington returns to the Commonwealth after seven years at the helm of the Georgia Southern men's basketball program, where he led the Eagles to a 131-97 record. He was also the first GSU coach to win 20 or more games in three consecutive seasons – his final three in Statesboro – in more than 30 years.
"I am extremely excited to be the next basketball coach at James Madison University," Byington said. "I want to thank President Alger, Charlie King and Jeff Bourne for trusting me to lead an exciting time for James Madison basketball. I feel it's one of the best jobs in the Mid-Atlantic and I'm looking forward to winning immediately."
 "Coach Byington demonstrated at Georgia Southern his ability to inherit a program that was down and build a winner," Bourne added. "He has built strong relationships with his players, which is evident in numbers like graduation rates and academic progress rates, not to mention the energy, passion and enthusiasm that is evident throughout his program. He has been diligent in building a diverse support staff. Culture and fit are paramount to any search at James Madison, and Mark Byington checked every box in those categories. He was engaged in ticket sales and fundraising around his program to grow attendance and overall interest. He is committed to the university, our local community, our faculty and staff, our student body, our alumni and other fans. In short, he is excited to be part of JMU Nation and invest himself in us. Mark Byington is the total package to lead JMU men's basketball."
Bourne continued, "I particularly want to thank Todd Turner and Collegiate Sports Associates, which has been instrumental in this search process. I also want to thank JMU President Jonathan Alger and our search committee of Senior Vice President Charlie King, Board of Visitors representative Mike Battle and Faculty Athletics Representative Dr. Roger Soenksen. Significant work on candidate identification, research and planning occurred behind the scenes within our athletic administration. In-depth discovery and careful research leads to the selection of good coaches. I want to thank our staff for assisting in the work they performed throughout the entire process to provide insight and valuable data in helping us to arrive at the best candidate. I'd like to recognize Geoff Polglase, Cliff Wood, Kevin White, Jeff Souder, and Kevin Warner for their efforts."
"Obviously these were unique circumstances for conducting a search, while being sensitive to a worldwide health pandemic," Bourne added. "These are extraordinary times that we are facing as an institution, community and country, and it was critical that we find someone who could work collaboratively with the athletic and university administration under such circumstances. We are grateful to Coach Byington and all who were able to be involved in the process. We look forward to everyone having the opportunity to meet him as circumstances allow."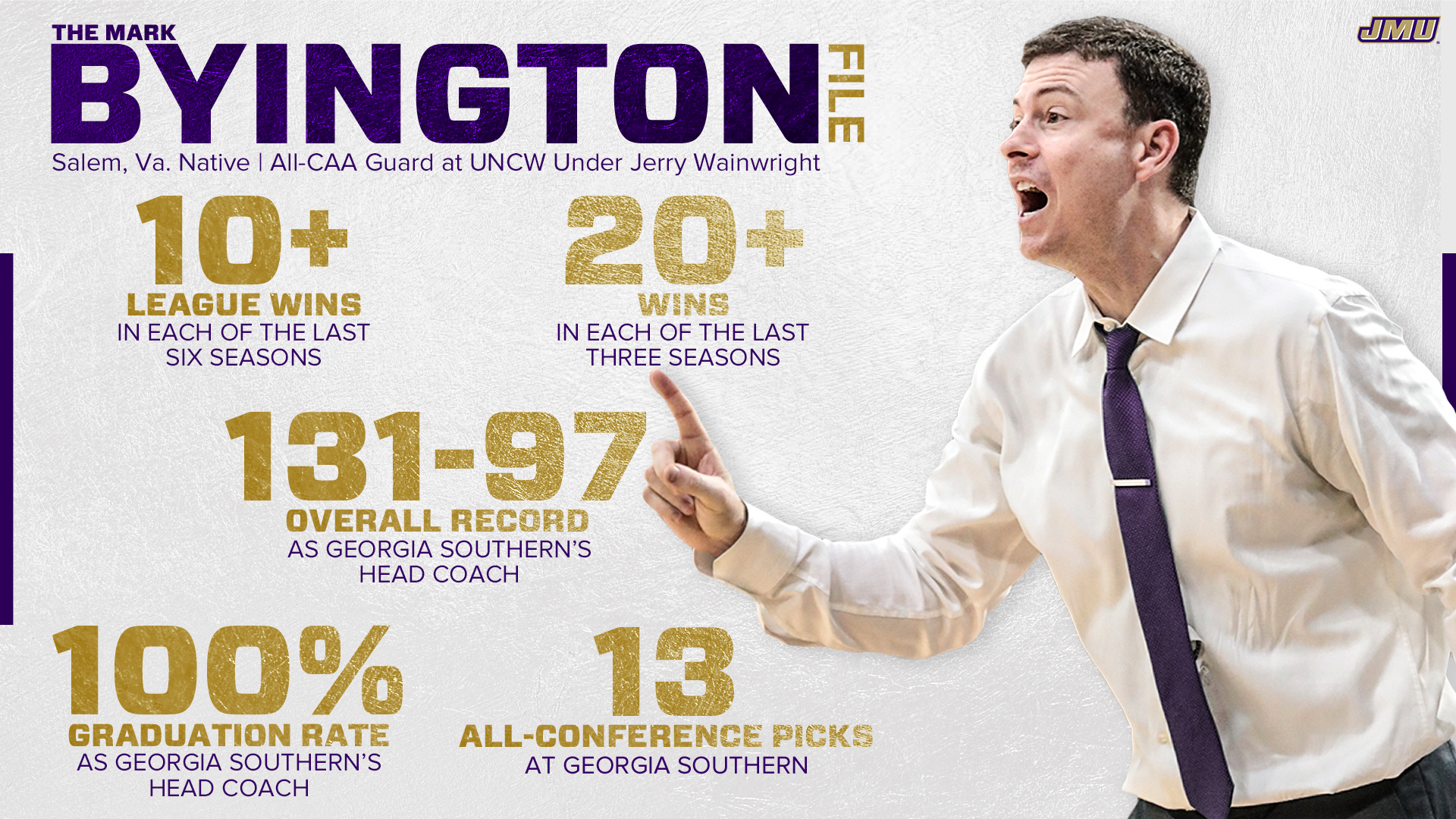 Byington began his collegiate basketball journey in the Colonial Athletic Association, where he starred for Head Coach Jerry Wainwright at UNCW before embarking on his coaching career. He was a three-year starter for the Seahawks, scoring 1,088 career points on his way to two CAA All-Academic selections, as well as Second Team All-CAA and CAA All-Defensive Team honors as a senior. He earned his bachelor's degree in physical education from UNCW in 1998.
No stranger to coaching in Virginia, Byington started his coaching career at national powerhouse Hargrave Military Academy, while also making later stops at both Virginia Tech and Virginia, where he earned his master's degree in sport psychology in 2003.
COMPLETE MARK BYINGTON COACHING HISTORY
2013-20 | Head Coach, Georgia Southern
2012-13 | Assistant Coach, Virginia Tech
2012 | Interim Head Coach, College of Charleston
2005-12 | Assistant Coach, College of Charleston
2004-05 | Director of Basketball Operations, Virginia
2002-04 | Graduate Manager, Virginia
2001-02 | Assistant Coach, Hargrave Military Academy
For the full release from JMU Athletics, click HERE.


Committed To Excellence
With over thirty years of experience in intercollegiate athletics, CSA delivers a unique level of service that effectively meets the needs of the nation's leading universities and conferences.