Long Beach State Athletics Names Bobby Smitheran Next Executive Director of Athletics
LONG BEACH, CA – Long Beach State University welcomes Bobby Smitheran as its next executive director of athletics. Smitheran's appointment, announced by Scott Apel, vice president and chief financial officer at Cal State Long Beach, is set to begin on Aug. 21.
CSA is honored to have assisted CSU Long Beach President Conoley, CFO Apel and the Search Committee on this search.
"I am grateful to the search committee for their hard work conducting this national effort," said Apel. "Bobby understands the student-athlete, knowing what it takes for them to both grow individually and win as a team. He brings the experience, track record, and vision to move our program forward."
Smitheran comes to The Beach with more than two decades of experience in intercollegiate athletics. He currently serves as executive associate athletics director for student-athlete academic support services at San Diego State University. He has also served as director of compliance, director of football operations, and student-athlete services coordinator.
Before his positions with the Aztecs, he served as assistant athletics director for compliance and student support and director of compliance at UC Irvine as well as compliance coordinator at the University of North Texas.
"Long Beach State University has a rich tradition of academic and athletic excellence and it is my honor and privilege to lead Beach Athletics into the future," said Smitheran. "I am thankful for President Conoley and Vice President Apel entrusting me with this leadership opportunity to serve the student-athletes, coaches, and staff who represent the institution and tremendous community of Long Beach."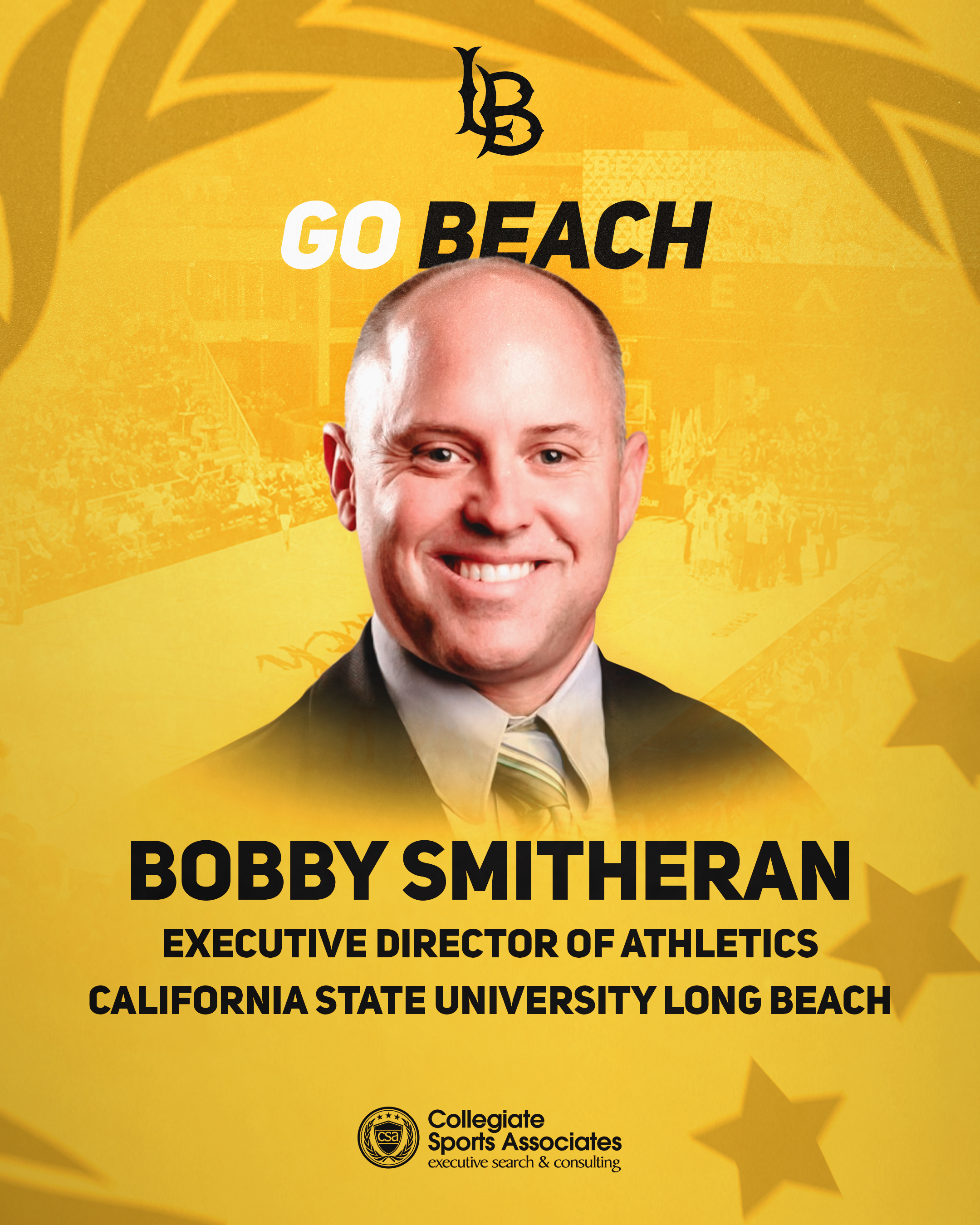 In his role at SDSU, Smitheran was responsible for managing the comprehensive academic support program that served over 450 Aztec student-athletes, which includes academic advising, academic mentoring, tutoring, access to a learning specialist and grade-checks with campus professors. He is also the supervisor for the areas of Athletic Medicine, Strength & Conditioning, Student-Athlete Development and NCAA/Institutional Drug Testing.
Smitheran was the sports supervisor for the Aztec football program for seven years and the softball program for five years. He also oversaw the SDSU athletics special admission program in consultation with the University's vice-president for enrollment management.
A native of Riverside, California, Smitheran played four years of collegiate baseball at the University of New Mexico, earning academic all-conference honors with the Lobos as a senior in 1996. After receiving his undergraduate degree in communications, he remained in Albuquerque, completing his master's degree in physical education at UNM in 1999 with a specialization in sports administration.
Smitheran began his career in intercollegiate athletics as Compliance Coordinator at the University of North of Texas in 1999-2000 before spending the next seven years at UC Irvine, including the final three as Assistant Athletic Director of Compliance and Student Support. Two of the sports he worked directly with at UCI included men's volleyball (2007 NCAA champion) and baseball (2007 College World Series appearance). 
With the Anteaters, Smitheran supervised the department's compliance program and had significant responsibilities with the admissions process while providing academic counseling assistance to student-athletes. He also served as a liaison to various offices at UCI, including admissions, housing, administrative services and financial aid and scholarships.
Smitheran and his wife Karen have two children, Tyler and Cooper.
For the full release from Long Beach State Athletics, click HERE.

Committed To Excellence
With over thirty years of experience in intercollegiate athletics, CSA delivers a unique level of service that effectively meets the needs of the nation's leading universities and conferences.