Long Beach State Taps Amy Wright As Next Women's Basketball Head Coach
LONG BEACH, CA – Long Beach State Interim Executive Director of Athletics Ted Kadowaki has announced the hiring of Amy Wright as the new head women's basketball coach at the Beach.
CSA is honored to have assisted Kadowaki and President Jane Close Conoley on the search. 
"I am very happy with the outcome of our national coaching search," said Kadowaki. "It is with great pleasure I have the opportunity to announce the hiring of Amy Wright as our new head women's basketball coach at Long Beach State. Amy brings over 20 years of coaching experience at many different levels after a standout career as a player. She is a person of high character and is a proven winner. I am confident she will continue the tradition of success that has been built at Long Beach State, while bringing our women's basketball program to new heights as she works towards winning future championships at the Beach."
Wright brings more than 20 years of experience to Long Beach State after spending the last two years at Oklahoma as the associate head coach and recruiting coordinator. While in Norman, Wright helped lead the Sooners to their first Big 12 Championship since 2009 as they made their second-straight NCAA Tournament appearance in 2022-23. With Wright primarily coaching the guards, the Sooners posted a program record for assist/turnover ratio (1.23), and ranked in the top five in the nation in scoring (2nd – 84.4 ppg) as well as assists per game (3rd – 20.8). She was also instrumental in developing Madi Williams, a 2023 WNBA draft pick, Taylor Robinson, the NCAA all-time three-point record holder (503), and Ana Llanusa, an All-Big 12 honoree.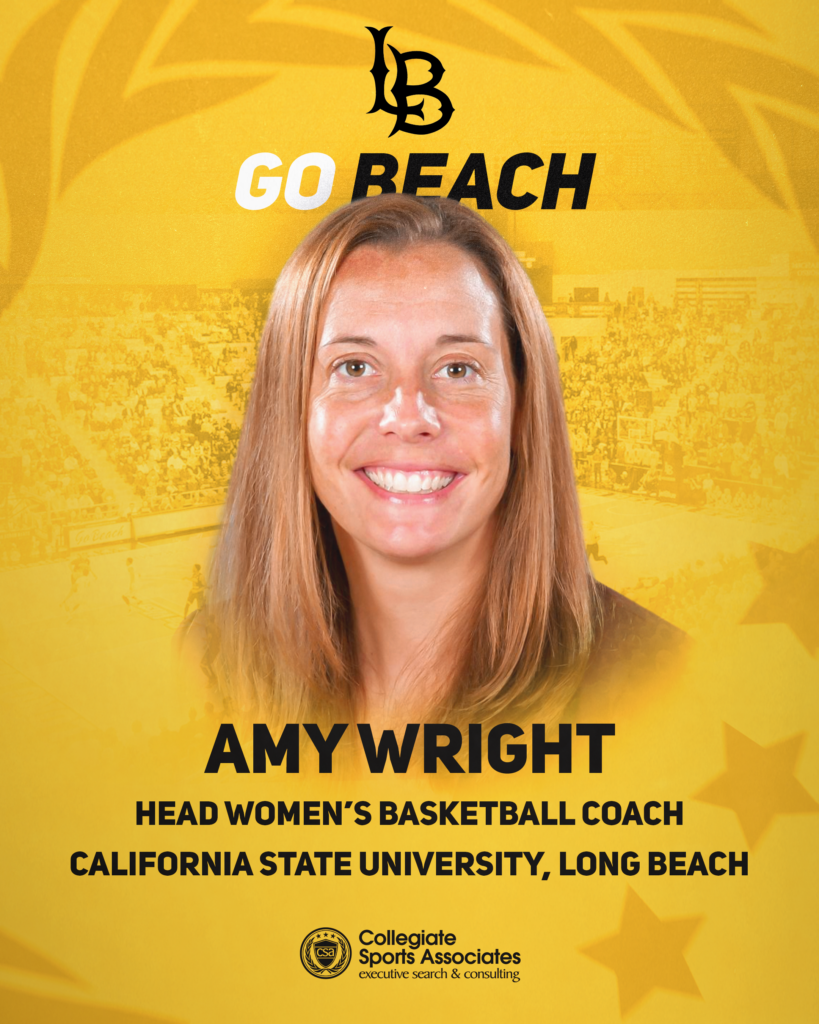 "First, I'd like to thank Long Beach State Interim Executive Director of Athletics, Ted Kadowaki, and University President Jane Close Conoley," said Wright. "I am really excited to have the opportunity to lead the Long Beach State Women's Basketball Team. It is a historic program located in the hotbed of California basketball talent. Every coach from Joan Bonvicini to Jeff Cammon has done a remarkable job. I look forward to continuing that winning tradition of success for Long Beach State."
Prior to her time at Oklahoma, Wright spent nine years at Texas A&M. With the Aggies, she helped guide the squad to eight NCAA Tournament appearances, as they reached the Sweet 16 four times, while reaching the Elite Eight in 2014. Furthermore, she helped the Aggies to three second-place finishes in the SEC. As recruiting coordinator at A&M, the Aggies boasted the No. 8 ranked recruiting class in the nation per ESPNW in 2017.
Throughout her career, she has coached nearly 19 first team all-conference selections and has made the postseason at every school where she's coached.
A highly-touted recruiting coordinator, Wright helped sign one of Arizona State's highest-ranked recruiting classes in just one season. Specializing in out-of-bounds plays, on-court work with guards, and opponent scouting reports, Wright was instrumental in the Sun Devil's 20-win season and their WNIT berth in 2011-12.
Wright coached at Cleveland State, where she helped lead the Vikings to 59 wins over three seasons, a conference championship, and a pair of postseason appearances. She also coached at Western Kentucky where she collected 49 victories in two seasons, and spent four years at USF where the Bulls recorded three 19-plus win seasons.
As a player, Wright was a four-year starter under Gary Blair at Arkansas from 1999-2002. She is the only point guard in program history to lead the Razorbacks to four-straight postseason appearances, including the 1999 WNIT Championship. As Arkansas' all-time leader in assists (717), Wright set the school record for assists in a single season with 205 in her senior season. An SEC Academic Honor Roll selection as a sophomore, Wright never missed a game, playing in a school-record 131 consecutive contests.
Following her collegiate career, Wright participated in the WNBA Pre-Draft Camp and was drafted by the Detroit Shock in 2002.
A native of Williamsburg, Ind., Wright earned her bachelor's degree in marketing and management from Arkansas, before completing her master's degree in sports and administration from Ohio University.
For the full release from Long Beach State Athletics, click HERE.

Committed To Excellence
With over thirty years of experience in intercollegiate athletics, CSA delivers a unique level of service that effectively meets the needs of the nation's leading universities and conferences.