Marvin Lewis Named Next Assistant Vice President and Director of Intercollegiate Athletics at George Mason
FAIRFAX, VA – George Mason University President Gregory Washington has named Marvin Lewis as the Patriots' Assistant Vice President and Director of Intercollegiate Athletics. Lewis, who signed a five-year contract, will become Mason's sixth athletics director when he begins on July 1.
CSA is honored to have assisted President Washington, Patriot Athletics and the search committee with the search. 
"We are pleased to welcome Marvin Lewis to Mason," Mason President Gregory Washington said. "His strong background in Division I athletics makes him a great choice to take Patriots Athletics to the next level. But, beyond that, what impressed me from the outset in talking with him are the values he holds dear that run similar to our own. We look forward to the great things he will do in setting the standard of excellence for our student-athletes in every way."
The Germantown, Maryland native boasts 15 years of athletic administrative leadership with various impressive NCAA Division I institutions. Lewis assumed senior leadership roles at Georgia Tech, University of Maryland, Georgia State, and most recently at Brown University as the school's assistant vice president for athletics and recreation/chief operating officer.
"I am attracted to George Mason because of its distinct blend of world-class academics, nationally competitive athletics, and the location in Northern Virginia. Mason is everything that is right about higher education, creating diverse and inclusive communities that enhance the experience for all students," said Lewis. "There is tremendous energy and excitement around President Washington's transformational leadership and bold vision for the university and athletics. I am ecstatic to join his leadership team and Mason Nation!"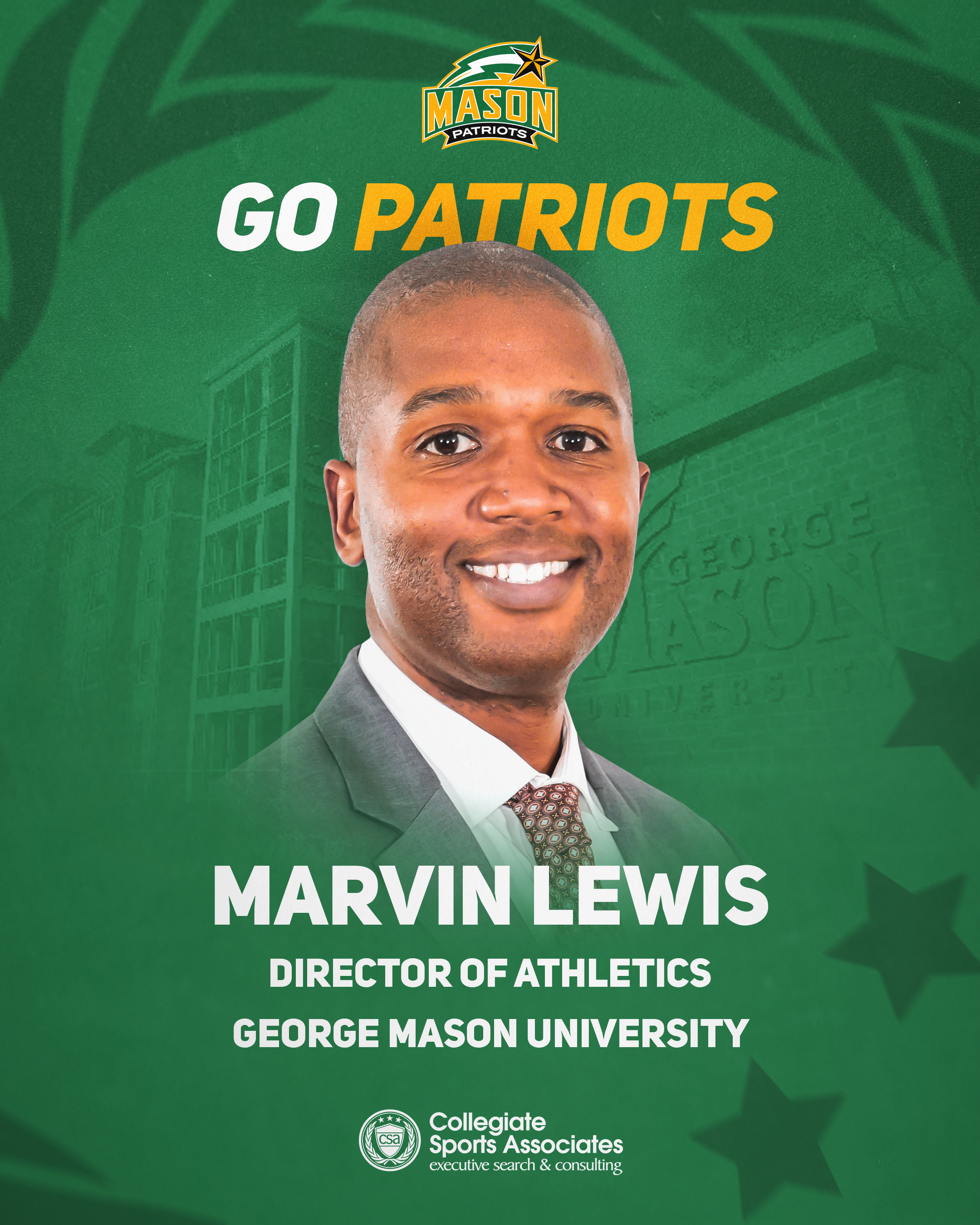 During his tenure at Brown, Lewis led a brand and visual identity refresh, launched new fan engagement initiatives and premium amenities, developed a divisional strategic plan, and implemented a long-term financial model that elevates the baseline student-athlete experience.  As a member of the executive leadership team, Lewis led the external relations team focused on revenue generation, fan engagement, strategic communications, and athletics and recreation storytelling.  In addition, he oversaw the business and financial operations, facilities and events, human resources and talent development, and equipment operations. He served as sport administrator for several sports, including men's basketball.
Lewis is regarded as one of the nation's most respected up-and-comers in athletics administration, having been named to the CollegeAD Next Up list in 2017 and the 2018-19 College Athletic Business Management Association (CABMA) Manager of the Year. He successfully completed the prestigious NCAA Pathway Program for aspiring athletics directors and conference commissioners in 2020.
He began his rise in athletics administration at Georgia State and later assumed leadership roles at both Georgia State and Maryland. He then spent nearly seven years at his alma mater Georgia Tech as the senior associate athletics director for administration and finance before leaving for Brown in July 2021.
Lewis was also instrumental in the University of Maryland's transition to the Big Ten Conference. Lewis chaired the Business and Travel Workgroup within the Big Ten Integration Committee, which analyzed the financial impact of the conference transition. He developed the comprehensive 12-year financial model for the Business and Finance Workgroup of the President's Commission on Big Ten Integration.
A former two-time captain of the Georgia Tech basketball team, Lewis graduated with honors from Georgia Tech in 2004 with a bachelor's degree in management before becoming a licensed CPA. He later earned a master's degree in taxation from Georgia State in 2008. The guard led the Yellow Jackets to the 2004 national championship game.
For the full release from Patriot Athletics, click HERE.

Committed To Excellence
With over thirty years of experience in intercollegiate athletics, CSA delivers a unique level of service that effectively meets the needs of the nation's leading universities and conferences.