Mount St. Mary's Selects Brad Davis As Director Of Athletics
EMMITSBURG, MD – Mount St. Mary's University announced the hiring of Brad Davis as the school's new Director of Athletics. Davis begins his tenure at the Mount on August 1, 2023.
"We enthusiastically welcome Brad and his family to Mount St. Mary's." University President Timothy E. Trainor, Ph.D. said. "As we enter our second year in the Metro Atlantic Athletic Conference, we look forward to his leadership and collaboration with our excellent coaches and staff in positively developing our student-athletes in mind, body and spirit as well as in building on our winning tradition."
CSA is honored to have assisted President Trainor and the Search Committee with this crucial hire.
Davis comes to Emmitsburg following a successful five-year tenure at Mercyhurst University in Erie, Pennsylvania. The Lakers boast a similar sized department to the Mount with 26 varsity programs and 750 student-athletes. Mercyhurst competes at the Division II level, with Division I status for men's and women's ice hockey. On the field of play, Mercyhurst prospered with a national championship in women's rowing for 2022, nine conference championships, and 23 NCAA tournament appearances.
"I am honored and humbled to be named the next athletic director at Mount St. Mary's." Davis said. "The Mount is a special place with special people and plenty of potential. There is tremendous energy and excitement throughout campus, and I am ecstatic to join President Trainor's leadership team and meet the Mount faithful. I was impressed with President Trainor's vision immediately, and I look forward to working with our student-athletes, coaches, and staff to achieve success together."
The five years Davis supervised Mercyhurst were transformative. Rebuilding the Lakers' structure, mission, and culture, administrative and head coaching hires helped Mercyhurst attain the top spot in the Pennsylvania States Athletic Conference (PSAC) for promoting diversity in 2021-22. Teams recorded a department-wide GPA of 3.4 with a 90% Academic Success Rate in six out of seven years.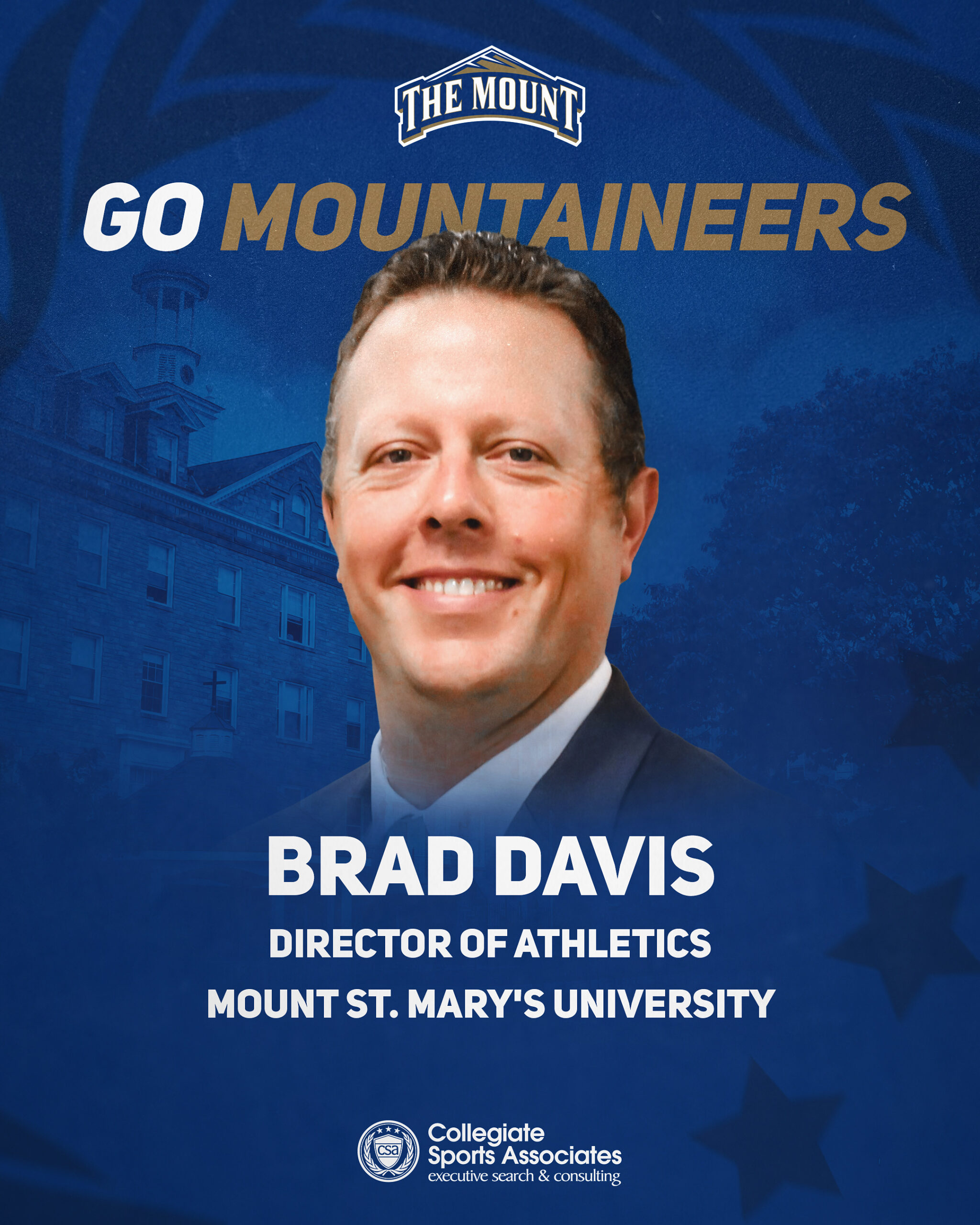 "Brad arrived at Mercyhurst five years ago with vision, passion, and experience to elevate Laker Athletics to the next level," said Mercyhurst President Kathleen A. Getz, Ph.D. "He has been an asset to Mercyhurst, enhancing our athletics programs and facilities, while being thoroughly dedicated to our student-athletes and to the integrity of our university. We are grateful for his contributions to Mercyhurst and we wish Brad, his wife Kristin and their son Brecken all the best as they embark on a new chapter in their lives."
Net revenues increased under his watch, aided by initiatives such as Giving Day for Athletics, launched this year, as well as the Laker for Life Campaign. This emboldened construction and infrastructure projects at Mercyhurst, with renovations of the Athletic Center, Ice Center, Saxon Stadium and the soccer and baseball field. New construction included turf fields for soccer and softball and new locker rooms for women's soccer and softball. Along with these projects, Davis helped to create the first-ever department-wide programs in the fields of Mental Health and Wellness, Sport Performance, and Strength and Conditioning.
Further revenue records were set this past year in sponsorship, ticket sales, apparel, rentals, and camps. This was due to the oversight of the department's first comprehensive plan, and the development and enhancement of game day experience, specifically for the hockey and basketball teams. Ticket revenue alone increased by 50% from these efforts. Webcast production also improved, enabling TV contracts with local affiliate WICU beginning in 2020.
Mercyhurst also became a hub for postseason tournaments in the past five years. The school served as the bubble for the entire Division I women's hockey tournament in 2021, and the Lakers hosted three Division II regionals and the College Hockey America women's hockey conference championship.
In addition to duties at Mercyhurst, Davis serves as chair of the Atlantic Hockey Executive Committee and the PSAC Executive Committee. Past committee assignments include chairing the Division II National Advisory Committee for Men's Lacrosse as well as the PSAC Advisory Council and PSAC Officiating Committee.
Before his time in Erie, Davis served at Merrimack College in North Andover, Massachusetts for 11 years. Beginning as the sports information director in 2007, he was promoted to Assistant Athletic Director for External Relations in 2011, and again to Associate Director of Athletics one year later. As a member of the three-member senior leadership team, Davis outlined and formulated long-range policies for the Warriors, which included an eventual acceptance to the Division I level, joining as a member of the Northeast Conference.
Examples of successes at Merrimack include a multi-year apparel agreement with Under Armour in 2017 – a feat later replicated at Mercyhurst – planning and construction of Duane Stadium with renovations to their Outdoor Athletic District, launching and facilitating the Warrior Fund, and chairing the men's basketball coaching search that led to the hiring of Joe Gallo, who has already piloted the team to two Northeast Conference titles.
Previous career stops include sports information positions at Bryant University, MetroWest Daily News, KGO TV in San Francisco and the San Jose Sharks.
For the full release from Mount St. Mary's University Athletics, click HERE.

Committed To Excellence
With over thirty years of experience in intercollegiate athletics, CSA delivers a unique level of service that effectively meets the needs of the nation's leading universities and conferences.