North Texas Names Charley Thrash Deputy AD & CRO
DENTON, TX – Charley Thrash has been named the new Deputy AD for Revenue Generation and Chief Revenue Officer for UNT Athletics, Vice President and Director of Athletics Jared Mosley recently announced.
"I am excited to have Charley, his wife Dana, and two sons, Troy and Thompson joining the UNT Athletics family," Mosley said. "Charley brings a wealth of experience across multiple revenue generation areas and has received high praise from colleagues at his various stops. He is very skilled in the cultivation of relationships and in creating processes that drive results both of which are key priorities for our department moving forward. I look forward to his leadership and impact for us as we continue to deliver on our mission of Building Champions and Preparing Leaders here at UNT."
CSA is grateful to have assisted Mosley on another Mean Green search.
Thrash comes to Denton following four years at UTEP, where he served most recently as Senior Associate AD for Revenue Generation since November 2021. He will have oversight of UNT's Mean Green Scholarship Fund, ticket office, letterman's club and licensing efforts as well as serve as primary contact for the department's partnership with Learfield.
"I am incredibly grateful to Jared Mosley, Brandon Buzbee, and the entire athletic department at the University of North Texas for this opportunity," Thrash said. "I feel the stars aligned for our family with this role, and we could not be more excited to move to Denton. There is so much positive momentum occurring with UNT as an institution and this great community, and I can't wait to be a part of it. Go Mean Green!"
While in El Paso, he was as a member of the AD's Executive staff, oversaw the Miner Athletic Club, ticket operations and sales, plus serving as sport program administrator for both the men's and women's golf programs. He led coaching searches for men's golf in 2021 and women's golf in 2022. Thrash was responsible for creating, implementing, and ultimately, achieving the revenue goals of the UTEP Athletic Department while driving the goal setting for both the Miner Athletic Club and ticket sales team.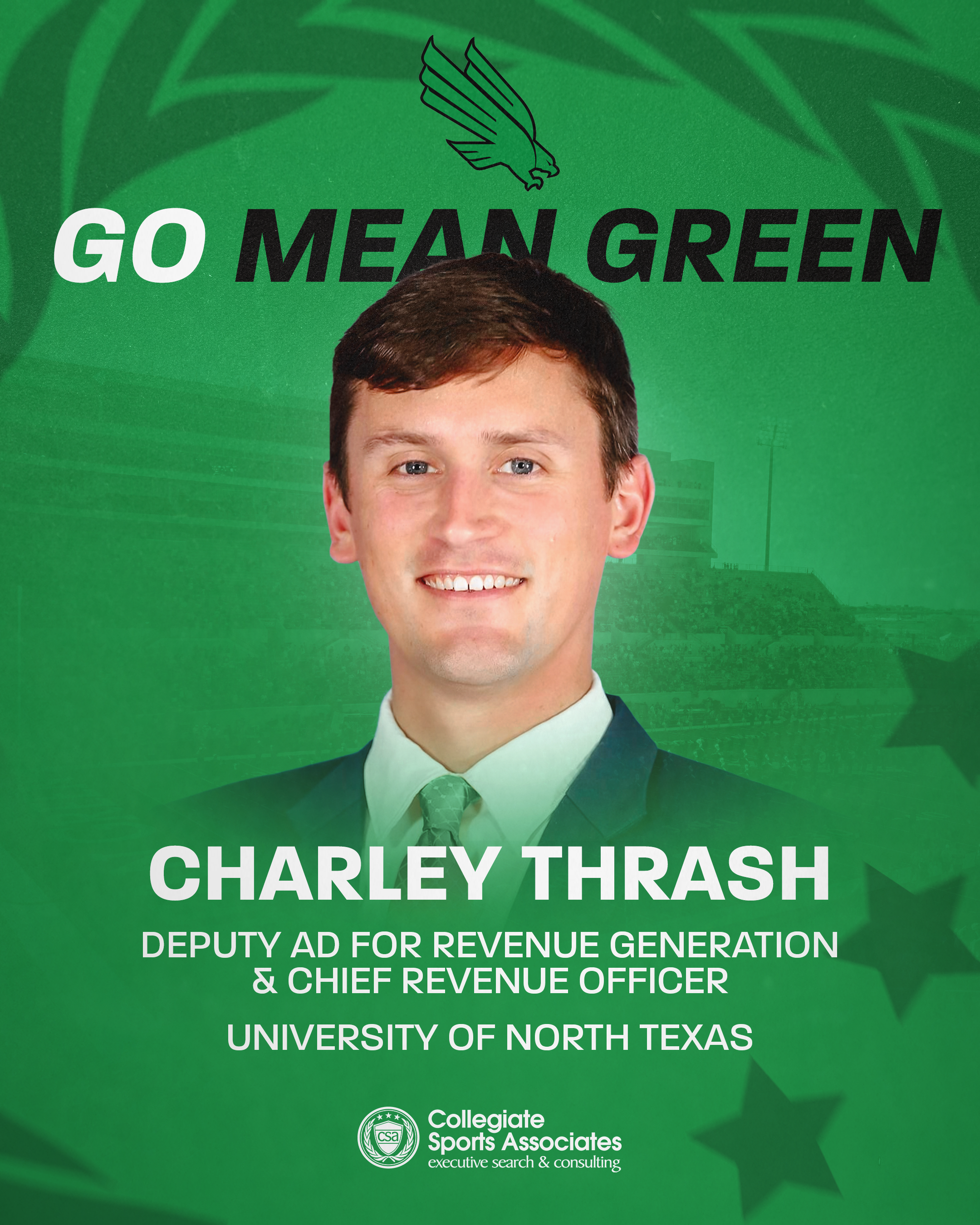 In that role he led the team to more than $13.5m in fundraising over the last four fiscal years, while personally raising over $5.5 million at UTEP including 36 commitments higher than $25k and six commitments greater than $100k. In his role he was also tasked in collaboration with UTEP's multi-media rights holder and concession partner.
Thrash came to UTEP from South Florida, where he served as Assistant Athletic Director for Annual Giving with the Bulls Club from 2017-19. His duties at USF included identifying, managing, cultivating, soliciting, and stewarding a portfolio of donors directly raising $2.25 million in revenue for the athletic department, including $1.65 million in new, unrestricted, and major gift dollars. He also secured 11 major gifts of over $25k in value.
Thrash oversaw the organization, coordination, and execution of the Bulls Club annual giving program, including the membership guide, special event fundraising activities, priority point structure, football/basketball priority parking and website/social media presence. He created and implemented the Above and Beyond Initiative, resulting in $115k raised by increased giving to the department.
He also had stints at Wyoming from 2014-17 ultimately serving as Assistant AD for Ticket Operations and in the ticket office at Delaware as well as minor league baseball.
A 2012 graduate of Missouri, Thrash also earned a master's degree from UTEP in 2022. He is married to the former Dana Driver. The couple has two sons, Troy and Thompson.
For the full release from North Texas Athletics, click HERE.

Committed To Excellence
With over thirty years of experience in intercollegiate athletics, CSA delivers a unique level of service that effectively meets the needs of the nation's leading universities and conferences.