Scott Kull Named Deputy AD For External Affairs At Charlotte
CHARLOTTE, NC – Charlotte 49ers Director of Athletics Mike Hill has announced the hiring of Scott Kull as the department's Deputy Athletic Director for External Affairs. Gifted in both fundraising and external operations, Kull will oversee the department's external units as well as development and will have sport supervision duties.
CSA is honored to have assisted Hill and 49ers Athletics on this important external-facing search. 
"Scott is an immense talent who will make a powerful impact on our program," said 49ers' Director of Athletics Mike Hill. "His fundraising acumen, cutting-edge revenue strategies and strong athletic administrative experience come at the perfect time as we continue our ascent into the American Athletic Conference. We could not be more excited to have a person of his caliber join our team."
Recognized as a "Power Player" by the Sports Business Journal in 2019, Kull has served in similar roles at the University of Utah, South Florida and TCU during his 30-year career in intercollegiate athletics. His vast experience includes strategic planning, fundraising and development, student-athlete well-being, administration and leadership, corporate sponsorship, marketing, media relations, licensing and ticket sales. 
"I am thrilled to have the opportunity to contribute to Charlotte's tremendous momentum," said Kull. "Under the great leadership of Chancellor Sharon Gaber and Mike Hill the vision for athletics is most impressive."
PAC-12 EXPERIENCE
He comes to the 49ers from the University of Utah, where he served as Deputy Athletics Director for External Affairs since 2018.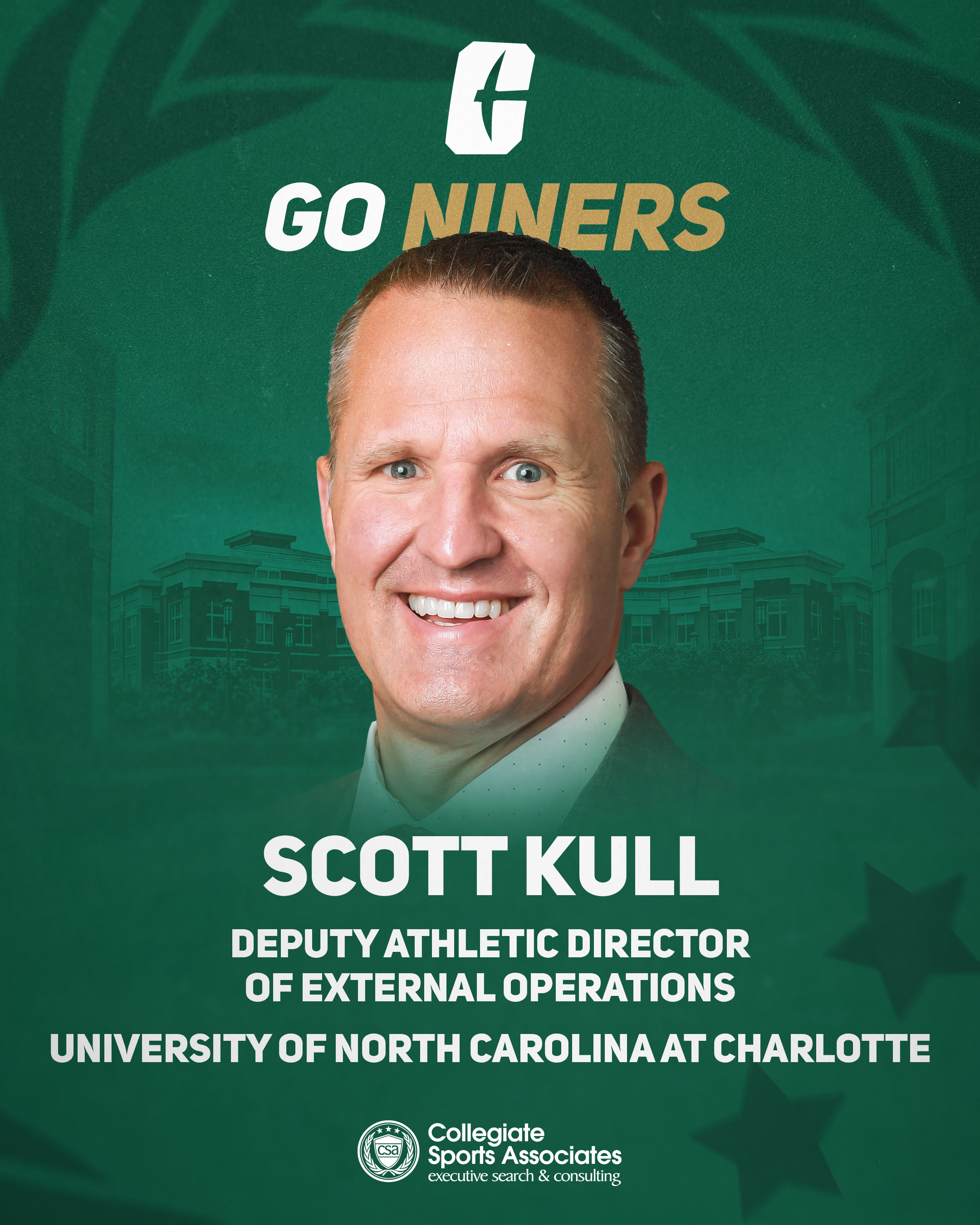 While with the Utes, he achieved the largest gift in athletics history, oversaw a development team that achieved record giving and attracted $51 million in gifts for a football stadium renovation. That team also secured $4 million in gifts towards a gymnastics practice facility. In addition, Kull contributed to NIL education and revenue initiatives for the department.
He also oversaw marketing, television, media relations, licensing, multi-media rights and digital and creative media. He created a digital and creative department and handled revenue contracts including stadium pouring rights, official footwear and apparel, merchandise, website, multimedia and PAC-12 television.
He served as the sport administrator for men's basketball, gymnastics and lacrosse and led searches for the head men's basketball coach and head men's lacrosse coach.
MAKING WAVES AT USF
Prior to his time at Utah, Kull was Deputy Athletics Director for External Operations and Associate Vice President for Development at South Florida from 2016-2018.  During his tenure, he also served as Acting Athletics Director. He led efforts to secure $53 million in future athletics revenue and oversaw a staff that achieved a 300% increase in fundraising from 2016 to 2017. Their efforts were instrumental in USF reaching its goal of $1 billion in the Unstoppable Campaign.
Likewise, he oversaw external relations, including revenue contracts for concessions, pouring rights, AAC television, website, licensing, apparel and merchandise. He served on search committees to hire head coaches in football, men's basketball, baseball, women's golf and men's tennis. 
TCU'S CAPITAL IMPROVEMENTS
The Senior Associate Athletics Director for External Operations at TCU from 2005-2016, he served as a member of the Executive Leadership Team for Strategic Planning & Management. He was a member of the development team that raised $260 million for Capital Projects over eight years, including $164 million for football stadium renovations and $72 million for basketball arena renovations.
Among his duties in external operations, he oversaw a 12-year, $40 million agreement with IMG for sponsorship and media rights. He was also instrumental in procuring video boards and LED displays for several athletic facilities. He partnered with coaching staffs to effectively administer men's basketball, men's and women's swimming and diving, men's and women's golf, men's and women's track and field and men's and women's cross country.
MAINE MAN
He was General Manager and Associate AD with Host Communications at Florida State University from 1999 to 2005 and served as Director of Marketing for the Seminoles from 1997-99. He got his start at Florida, where he was a graduate assistant in the athletics ticket office from 1992-93. He also served as a Marketing Assistant at Georgia Tech (1993-94) and as an Assistant Director of Marketing at Ohio State from 1994-97.
A graduate of Otterbein College, where he played football and threw the javelin, Kull received his Master of Arts in Sport Management from Ohio State University in 1992.  
Raised in Old Town, Maine and Claremont, N.H., Kull enjoys travel, cycling and has competed in the Ironman Triathlon. His community involvement includes the United Way, the Live Thankfully program and Habitat for Humanity. He was involved with PaintYourHeartOutTampa and has coached youth basketball. 
For the full release from 49ers Athletics, click HERE.

Committed To Excellence
With over thirty years of experience in intercollegiate athletics, CSA delivers a unique level of service that effectively meets the needs of the nation's leading universities and conferences.