Shaka Smart to Lead Marquette Men's Basketball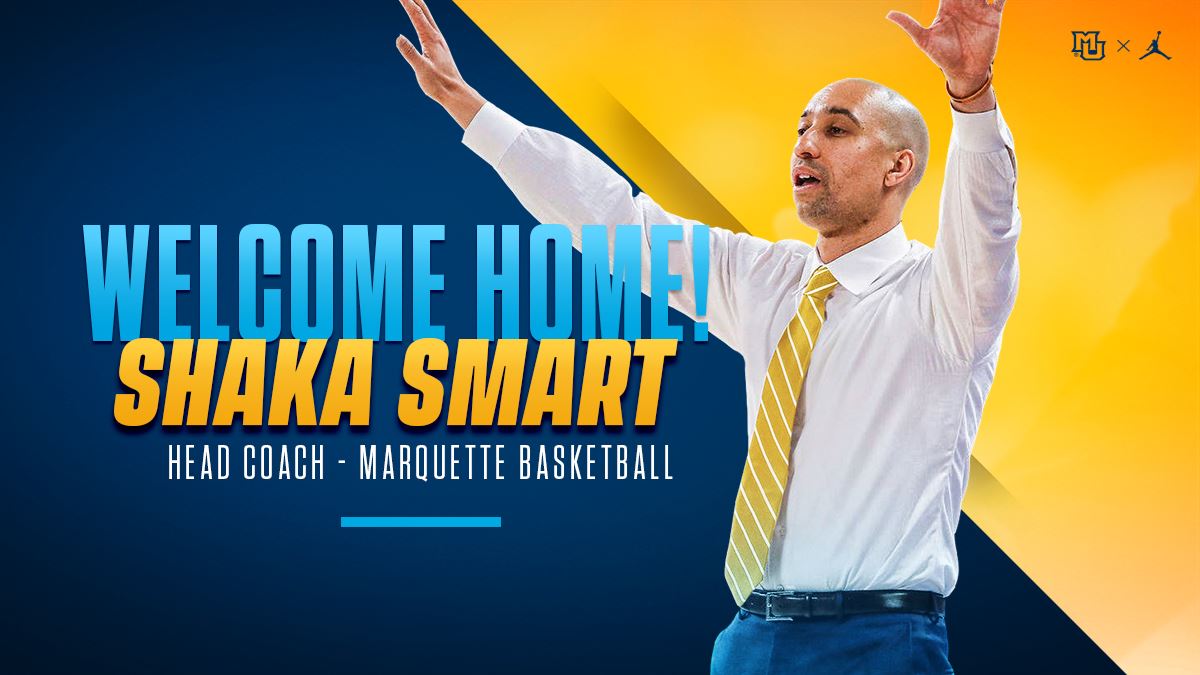 MILWAUKEE, WI – Shaka Smart has been named the 18th head coach of the Marquette University men's basketball program, Vice President & Director of Athletics Bill Scholl announced on Friday.
CSA is grateful to have assisted Bill Scholl, Mike Broeker, and Marquette Athletics on this search. 
In 12 seasons as a head coach at Virginia Commonwealth (2009-15) and Texas (2015-21), Smart guided the two programs to a total of eight NCAA Tournament appearances.  Those trips were highlighted by a run from the First Four to the Final Four by VCU in 2011.
"I can't tell you how thrilled I am to welcome Shaka, his wife Maya, and their daughter Zora to the Marquette and Milwaukee communities," Scholl said.  "We undertook an exhaustive national search, during which we discussed our opening with a significant number of highly-qualified coaches.  The interest in our position was tremendous and the market certainly understands what a wonderful place Marquette is to coach college basketball." 
"Throughout the search, one individual continued to rise to the top and that was Shaka," Scholl added.  "I am beyond excited for our current and future student-athletes who will have the great fortune of being mentored by Shaka.  He is a great teacher of the game, while also being a great molder of young men.  And I am proud to say, he is now a Marquette Golden Eagle!"
"I am so excited for Shaka to lead our celebrated men's basketball program, and I look forward to supporting him for many successful seasons as a Golden Eagle," said Marquette University President Michael R. Lovell. "Shaka will be the first person of color to lead our program, and is a true role model for our student-athletes. I've had several conversations with Shaka in the past few days and I know he will be a results-focused coach and recruiter, and also a strong advocate for our Catholic, Jesuit mission. What has impressed me most is that he is interested in being a leader beyond basketball. Shaka is a Wisconsin native and both he and his wife Maya want to make a positive impact on our Marquette and Milwaukee communities."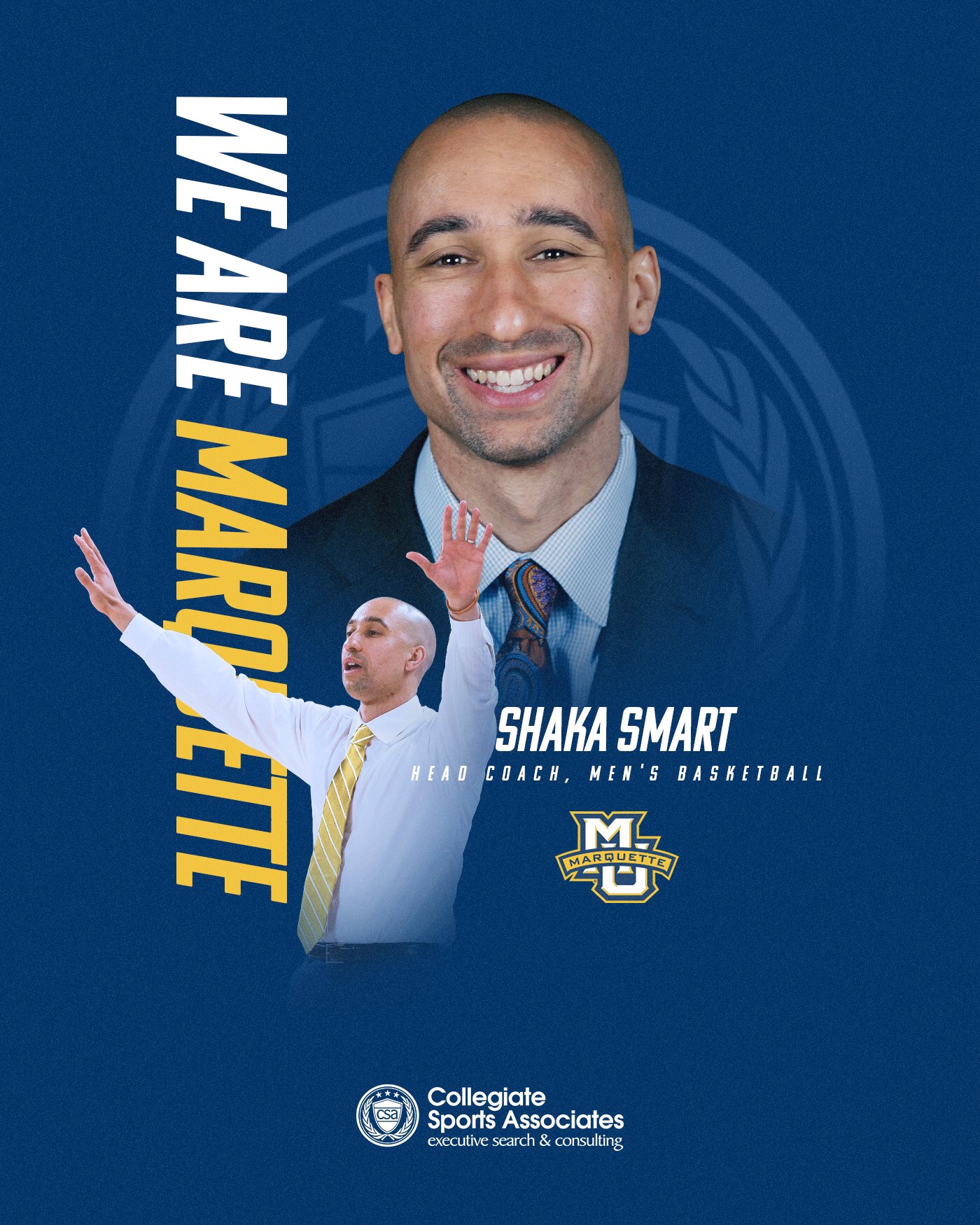 "Maya, Zora and I are absolutely thrilled to join the Marquette family," Smart said. "I'm grateful to President Lovell and Bill Scholl for entrusting me with the growth and development of this storied basketball program and the student-athletes who make it so special. I am extremely excited to get to Milwaukee to begin building relationships and getting to work on the court!"
The 43-year-old Smart owns an overall record of 272-142 (.657) and seven of his first 10 teams played in the NCAA tournament.  He posted a record of 163-56 (.744) at VCU and five trips to the NCAA.  While at Texas, the Longhorns were 109-86 (.559) and made NCAA appearances in 2016, 2018 and 2021.  Texas claimed the National Invitation Tournament title in 2019.
In 2020-21, Texas finished with an overall record of 19-8, including an 11-6 mark in the Big 12 Conference.  The Longhorns were ranked as high as fourth in the country and claimed the Big 12 Championship with a win over Oklahoma State.  The team claimed the league's automatic bid to the NCAA Tournament with the victory and was seeded third in the East Region.
AT VCU (2009-15)
While at VCU, Smart posted an overall mark of 163-56 (.744) and guided the Rams to five NCAA Tournament appearances. The 163 wins tied him for the second-highest number of total victories during the first six years of a head coaching career in NCAA history. VCU and Duke were the only two programs in the country to record at least 26 wins in each of those six seasons during that time frame (2009-15).
VCU was one of only 11 schools in the nation to earn an NCAA Tournament bid in five straight years between 2011-15 (Cincinnati, Duke, Gonzaga, Kansas, Louisville, Michigan State, North Carolina, Ohio State, San Diego State and Wisconsin). During Smart's tenure, the Rams posted a 27-9 (.750) mark in postseason play and a 33-10 (.767) record in the month of March, including a 7-5 mark in five NCAA Tournament appearances. The Rams' NCAA appearance in 2015 marked the first time in school history VCU had advanced to the Big Dance five straight years, and the first time in the history of the Commonwealth of Virginia that a Division I basketball program had accomplished that feat. 
Prior to his time at VCU, Smart worked as an assistant under notable coaches Billy Donovan (Florida), Oliver Purnell (Clemson and Dayton) and Keith Dambrot (Akron). During his one year with Donovan at Florida, he helped lead the Gators to a 25-11 mark and a trip to the Postseason NIT quarterfinals in 2008-09. The 25 victories marked the fifth-highest number of wins in a single season in program history.
He served as an assistant coach under Purnell at Clemson for two seasons (2006-08). In that span, the Tigers posted a total of 49 wins and made back-to-back postseason appearances, including a NCAA Tournament berth in 2008.
Smart worked as an assistant at Akron for three years (2003-06). In his final season on the staff, he helped the Zips to a 23-10 record, marking the school's highest victory total since it became a Division I program in 1980-81.
He also worked for Purnell at Dayton as director of basketball operations for two seasons (2001-03). During that time, the Flyers registered a 45-17 mark and won the 2003 Atlantic 10 Championship. The 2002-03 squad posted a 24-6 record and earned a trip to the NCAA Tournament.
Smart began his coaching career as an assistant at California University (Pa.) from 1999-2001. During his two seasons, the school recorded a 40-16 mark. While there, he also earned his master's degree in social science in 2001.
A four-year starter and three-year team captain at Kenyon College (Gambier, Ohio), Smart graduated magna cum laude in 1999 with a degree in history. He still holds the school single-season (184 in 1998-99) and career (542) records for most assists.
In his senior season, he earned All-North Coast Conference (NCAC) honors and was tabbed the league's Scholar Athlete of the Year. Smart was one of 20 students named to the 1999 USA Today All-USA Academic Team and earned a prestigious NCAA postgraduate scholarship.
A native of Madison, Wis., Smart was born on April 8, 1977. He and his wife, Maya, have one daughter, Zora.
For the full release from Marquette Athletics, click HERE.
See the full Introductory Press Conference HERE (starts at 24:00)


Committed To Excellence
With over thirty years of experience in intercollegiate athletics, CSA delivers a unique level of service that effectively meets the needs of the nation's leading universities and conferences.