Stephanie Garcia Cichosz Joins CSA as Director of Strategic Communications
Raleigh, NC – Collegiate Sports Associates announced today the addition of Stephanie Garcia Cichosz as Director of Strategic Communications. Garcia Cichosz joins CSA as it enters a new era of dynamic leadership under recently-named President Drew Turner. She previously served as a principal content strategist with Drive & Company, the parent company of industry-leading publication D1.ticker and partner in the technology platform Collegiate Sports Connect.
CSA President Drew Turner welcomed Garcia Cichosz to the team, stating: "We're excited to add Stephanie to the CSA family as we look to shape the future of executive search and consulting within intercollegiate athletics. While we will innovate our operations and enhance our brand, we will remain committed to the values we were founded upon: serving our clients with the expertise garnered through time-tested, on-campus experience in higher education and college sports. Stephanie's background as a student-athlete and professional athlete aligns with that vision and her experience as a communications and content specialist will bring tremendous value to our mission moving forward."
Garcia Cichosz has served in various roles with Drive & Company, gaining unprecedented knowledge of the industry through her engagement with athletic administrators and higher education leaders. Her on-camera work for Collegiate Sports Connect features exclusive conversations with college presidents and chancellors, athletics directors and senior-level administrators as well as industry experts in the areas of Name, Image, Likeness, sports betting, athlete mental health and more.
In addition, she brings over a decade of experience in high-level athletics, beginning as a walk-on to the University of Virginia's track and field and cross-country teams before earning ACC and NCAA accolades and inking a ten-year professional contract with New Balance.
"I'm delighted to join Drew Turner and the team at CSA, including some of the most highly-respected leaders within the industry," said Garcia Cichosz.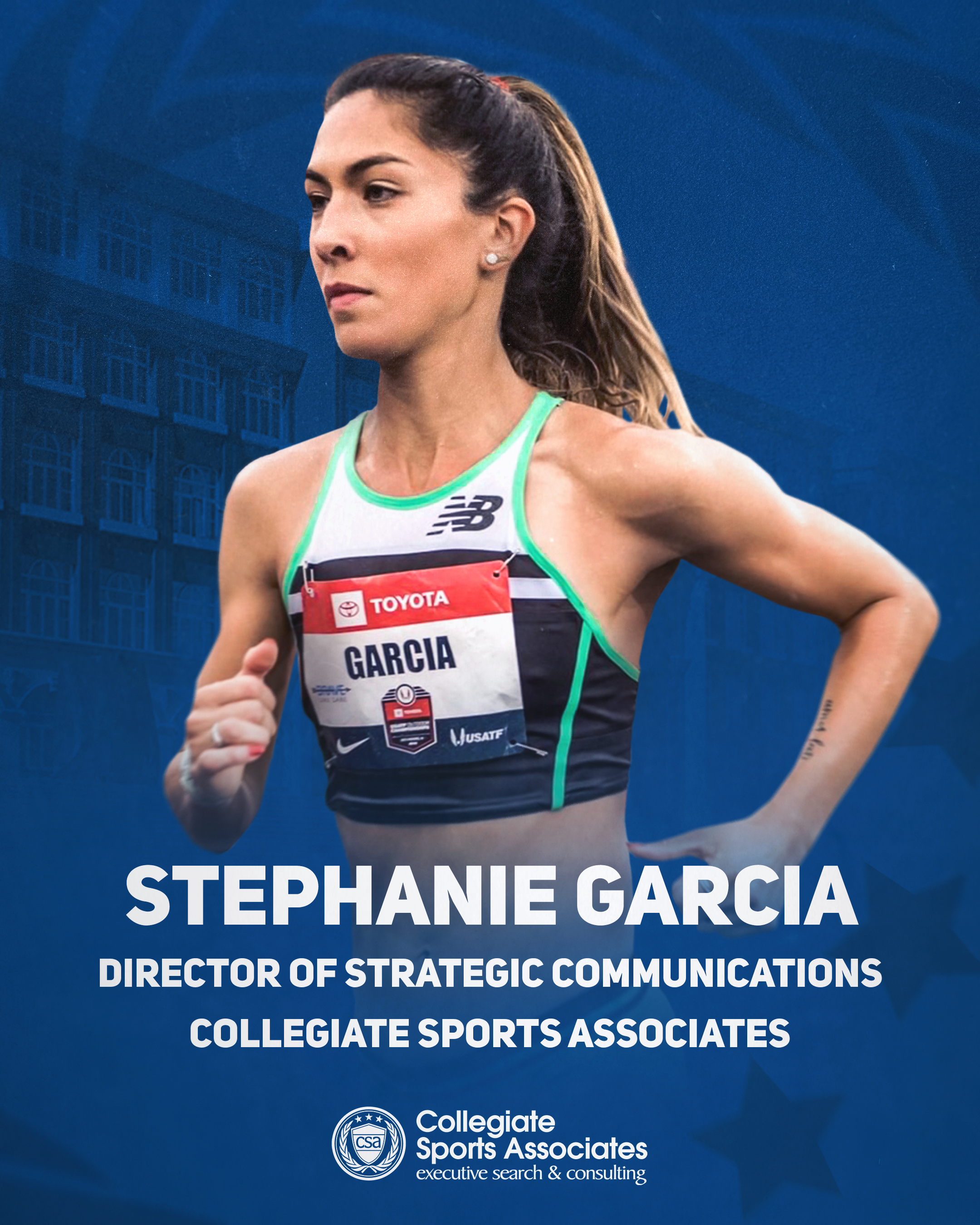 "In a time of rapid growth and change for intercollegiate athletics, the chance to shape and support industry leaders is an unparalleled opportunity. I'm extremely grateful to Drive & Company founder Matt Roberts for his mentorship and support of my growth within intercollegiate athletics and for his guidance as I transfer my skills from the D1.ticker enterprise to CSA's array of services."
In her role with CSA, Garcia Cichosz will lead the firm's strategic communications strategy and brand management under the guidance of Vice President Jenna McLaughlin. Additionally, she will provide support for various data analytics and client services projects.
Drive & Company founder Roberts states: "Stephanie has been a crucial member of the D&C team and has played various roles in the growth of our portfolio since 2016. Stephanie's ability to establish meaningful relationships and adeptly translate current events into compelling-yet-digestible conversations for administrative and industry leaders has always been one of her strong suits. She will bring a unique perspective, gritty work ethic and high energy to her work with CSA and we wish her all the best in this next step of her career journey."
During her professional track career, Garcia Cichosz represented the United States in the 2011 and 2015 World Championships and ranked as high as 9th in the world in the 3000m steeplechase. She sits on the Board of the Cav Futures NIL collective and the Endless Mileage Project. Garcia Cichosz has undergraduate degrees in English Literature and American Politics from the University of Virginia (2010) as well as a master's degree in English Literature from UVA (2012). She lives in Seattle with her husband Trevor and seven-month old son Charlie.
ABOUT COLLEGIATE SPORTS ASSOCIATES
CSA was Founded in 2010 by former Director of Athletics Todd Turner to provide executive search and consulting services to NCAA institutions and their athletics programs.  With over 275 projects completed to date, CSA has become one of higher education's most active and respected consulting and executive search firms.  The CSA team has many decades of campus experience, including over 50 years as NCAA D1 Directors of Athletics.  For more information on the entire CSA team please visit www.collegiatesportsassociates.com
In 2021 Todd and Drew Turner co-founded CSA's sister company, Collegiate Sports Connect, which was built in collaboration with D1.ticker and WMT and continues to grow as the digital home for college athletics.  Together, CSA and CS Connect provide unmatched service to the collegiate sports world by connecting people with opportunities.

Committed To Excellence
With over thirty years of experience in intercollegiate athletics, CSA delivers a unique level of service that effectively meets the needs of the nation's leading universities and conferences.