UCLA Athletics Announces "Fours Up" Strategic Plan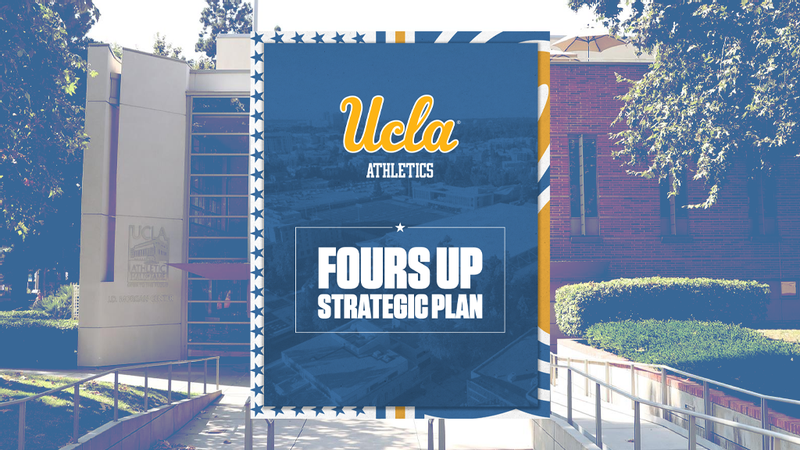 LOS ANGELES, CA – The UCLA Department of Intercollegiate Athletics (DIA) presents the "Fours Up" strategic plan as the roadmap for the next five academic years. Employing a strategic plan now best positions UCLA for success as collegiate athletics enters a new era including Name, Image and Likeness (NIL), NCAA transformation, realignment, governmental regulation, and while the Bruins prepare to move to the Big Ten.
UCLA engaged in a broad strategic planning process that evaluated current operations and set a vision for the future. Specifically, the department assembled a series of committees comprised of student-athletes, coaches, staff, and campus personnel to develop the plan. UCLA also used town halls, surveys, questionnaires, small-group meetings, and all staff updates to share information and collect feedback. Over 120 members of the Bruin community worked directly on the project, with dozens more sharing input. A third-party consultant supported the efforts by conducting a comprehensive review of the athletic department and helping shape the process. The plan also incorporates measures endorsed by the University of California Board of Regents and other consultants.
CSA is honored to have supported The Alice and Nahum Lainer Family Director of Athletics Martin Jarmond and UCLA Athletics with this crucial department-wide project.
The "Fours Up" strategic plan establishes four core elements of the department's IDENTITY starting with a new mission: UCLA Athletics develops champions through academic excellence, competitive greatness and social responsibility.
With this mission and the student-athlete experience at the forefront of everything we do, UCLA will strive to achieve two ambitious goals over the course of the plan's implementation.
UCLA will win the most combined national and conference championships in the country
All UCLA student-athletes will graduate and/or go pro
UCLA has also identified four pillars that will serve as the foundation for the department's work. By striving to construct these pillars, our goals are reachable and the mission may be fulfilled. 
World Class Academic Experience
Innovative Career Development and NIL Program
Exceptional Student-Athlete Health, Performance and Wellness Program
People-First Culture and Community
Finally, the DIA identified strategic priorities that will shape the department's day-to-day work over the next half decade. Each of the six priorities is buttressed by objectives, strategies, action items, and projected time frames empowering the staff to use the plan as a management tool to improve the department's future. More detail on these priorities and objectives can be found in the full strategic plan.
Read the "Fours Up" Strategic Plan here.

Committed To Excellence
With over thirty years of experience in intercollegiate athletics, CSA delivers a unique level of service that effectively meets the needs of the nation's leading universities and conferences.