Western Michigan Selects Marlee Wilson As Head Softball Coach
KALAMAZOO, MI – The Western Michigan University Director of Athletics Dan Bartholomae has announced the hiring of Marlee Wilson as the new head women's softball coach. Wilson, who played softball for the Broncos from 2014 -18, is the sixth head coach in program history.
CSA is happy to have assisted Bartholomae and the Search Committee on a successful Broncos search.
"We are thrilled to have one of our own leading our softball program into a new era. Our program has grown exponentially in the past year as we set the foundation of a culture that supports our departmental vision," said Bartholomae. "Coach Wilson has been an instrumental part of that – having earned the trust and respect of our team and staff, and having served as the lead recruiter in the ongoing development of two of the best recruiting classes in our history. Most importantly, with our highest priority being the holistic development and experience of our student-athletes, Marlee is a direct reflection of what our young women can aspire to be."
Wilson was the Broncos' top assistant last season and was in charge of hitting and infield skill development. She helped lead the team in scoring 21 runs over a 3-game series against Bowling Green to earned their first MAC series sweep since 2018. The 2023 team also succeeded in the classroom, having a program best of 17 NFCA Scholar-Athletes, and were one of 80 teams in the NCAA Division 1 to post a team GPA of a 3.5 or higher. In addition, nine Broncos were earned Academic All-MAC honors.
Wilson also served as the recruiting coordinator, which signed seven transfers and six freshman, including Alex Caouette and Annalee Niles, who were nationally ranked 22nd and 71st respectively in their positions in the 2023 recruiting class.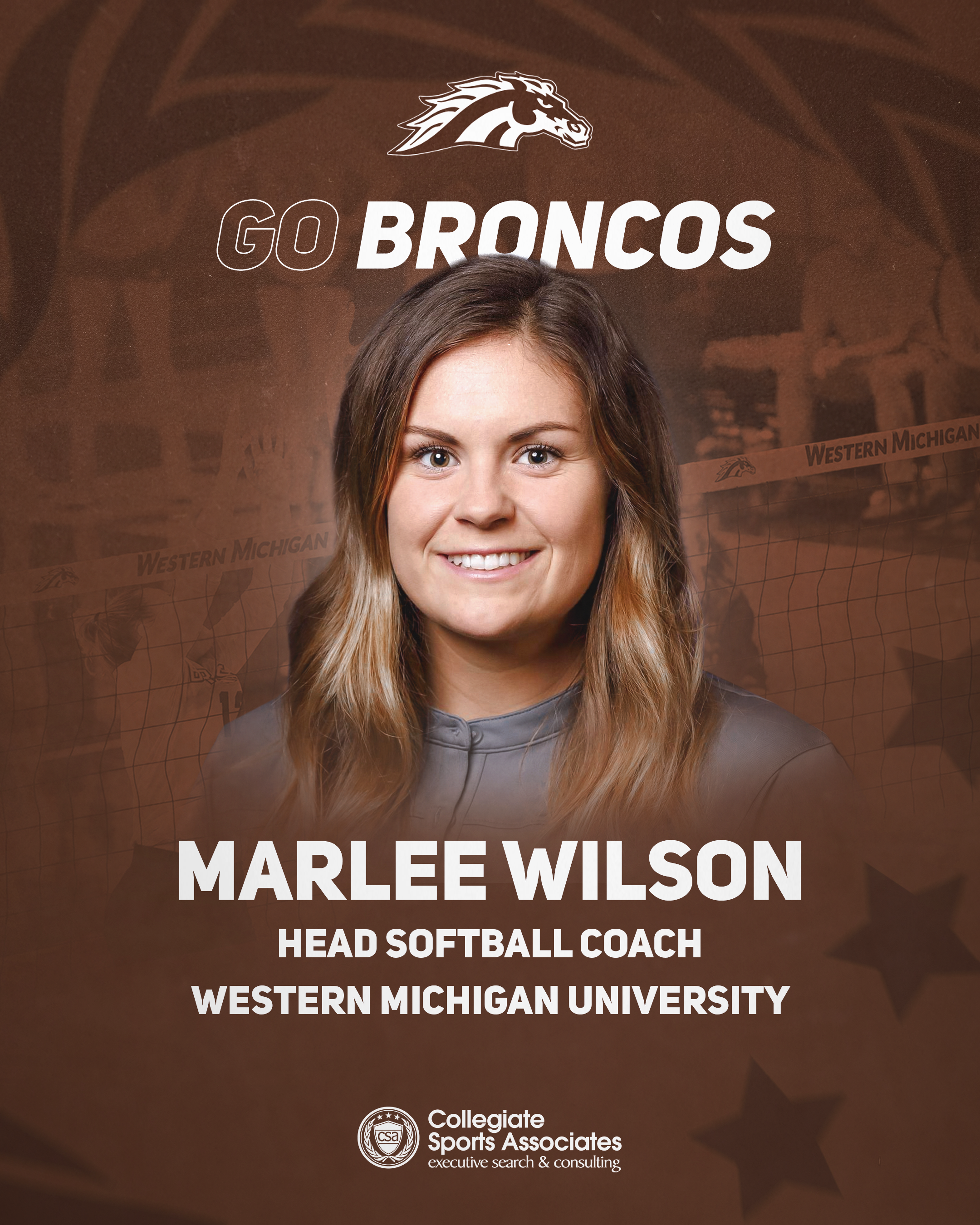 Before her return to Kalamazoo, Wilson spent two seasons as an assistant coach at Dayton. In 2022, she helped the Flyers to a .298 team batting average, which led the Atlantic 10 Conference, and had five players selected to the A-10 All-Conference Team. During her first campaign at UD, the Flyers were the runner-up in the A-10 conference tournament and sported a .972 fielding percentage, which ranked 37th nationally. Prior to her time at Dayton, Wilson spent two seasons as a graduate assistant at UT Martin. During her first season, the Skyhawks posted a 29-27 record and led the Ohio Valley Conference in stolen bases (130) and fielding percentage (.967), and ranked seventh in the country at 2.32 stolen bases per game.
No stranger to wearing the Bronco uniform, Wilson played for Western Michigan from 2014-18. In 2017, Wilson was a Second Team All-MAC selection after hitting .308 and belting 15 doubles, which tied for the second-most in a single season in program history. During her career as a Bronco, Wilson was a three-time Academic All-MAC honoree, a 2017 MAC Distinguished Scholar-Athlete and a four-time NFCA All-American Scholar.
"I am beyond excited and honored to lead the Western Michigan Softball program that has provided me so much as a player and coach," said Wilson. "I'm grateful for this opportunity given to me by Dan Bartholomae, the Athletic Department, and all my mentors who have developed me to represent this University of which I have a long history. It's an honor to be a part of this great University and the greater Kalamazoo area. Bronco Softball is on the rise and I'm happy to bring passion, energy, and commitment as we continue to compete for a MAC Championship!"
"Thank you to previous Head Coach and teammate, Jenny Rohn, for her hard work and dedication that has enhanced WMU Softball. Thank you to my family, friends, teammates, players, and former coaches who have constantly provided me support throughout my coaching journey. GO BRONCOS, forever!"
A native of South Haven, Mich., Wilson graduated from Western Michigan in 2017 with a bachelor's degree in University Studies, with concentrations in Human Performance and Health Education, Art and Business. The following year, she took master's classes in Sport Management at WMU while finishing out her playing her career with the Broncos. In the spring of 2020, Wilson earned a master's degree from the University of Tennessee at Martin in Family and Consumer Sciences.
For the full release from Western Michigan Athletics, click HERE.

Committed To Excellence
With over thirty years of experience in intercollegiate athletics, CSA delivers a unique level of service that effectively meets the needs of the nation's leading universities and conferences.