Ashwin Puri Named La Salle University's Vice President of Athletics & Recreation and Director of Athletics
PHILADELPHIA, PA – La Salle University announced Ashwin "Ash" Puri as the Explorers next Vice President of Athletics & Recreation and Director of Athletics, effective July 26, 2023. Puri will bring more than two decades of sports industry experience to the role, most recently serving as Senior Associate Athletic Director and Chief Athletics Operating Officer at Villanova University.
CSA is grateful to have assisted La Salle University President Daniel J. Allen, Ph.D. and the Search Committee on this exciting Explorers search. 
"On behalf of La Salle University, I am excited to welcome Ashwin Puri to the Explorer family," said President Allen. "In addition to bringing over 20 years of experience to our Athletics Department, Ash has an in-depth understanding of the Philadelphia region and our athletics landscape, which we believe will be a cornerstone to his success. We have the utmost confidence in his vision for La Salle Athletics and I believe that under his leadership we will continue to provide exceptional opportunities for our student-athletes." 
As Vice President of Athletics & Recreation, Director of Athletics at La Salle University, Puri will be responsible for the day-to-day operations of the athletics and recreation department and its 323 student athletes, 12 head coaches and over 80 staff members. Puri brings experience from both business operations at the collegiate level and in the front offices for Major League Baseball, National Basketball Association, and National Football League organizations.
"I am thrilled to become part of the Explorer community and help write the next chapter for La Salle Athletics and our student-athlete experience, especially at an institution that understands the transformative impact athletics can have on the entire university," said Puri. "To do this in Philadelphia, one of the most passionate sports cities in the country, so close to family and lifelong friends is incredibly exciting."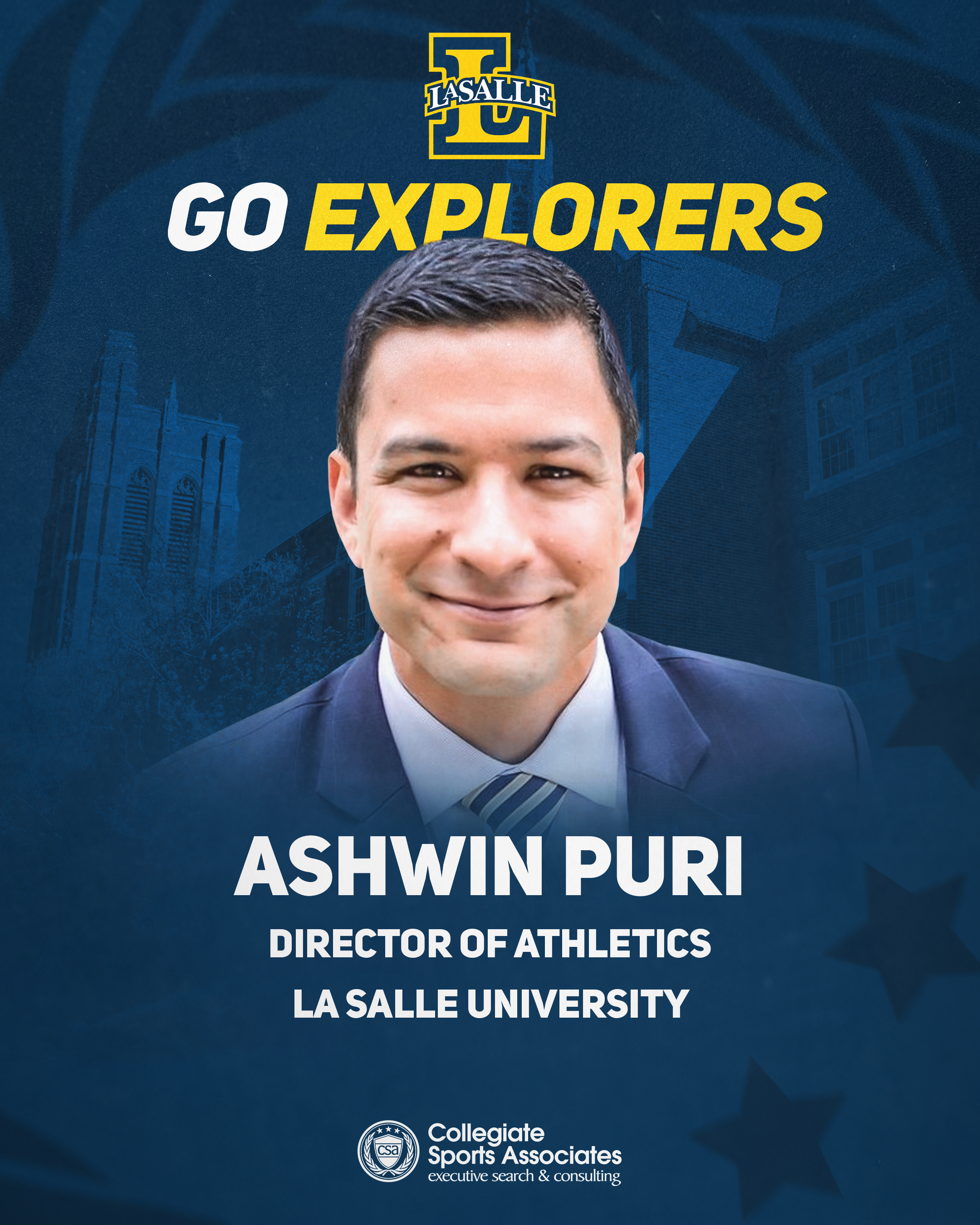 Since joining Villanova University in 2019, Puri has been responsible for overseeing the athletics department's annual operating and capital budgets while managing contract negotiations, facilities, ticket operations, sports medicine, travel, equipment, and more. In this role, Puri has also worked closely with the Villanova University men's basketball program as the Sports Administrator where he has been responsible for spearheading NIL initiatives. 
"All of us here at Villanova Athletics have a tremendous sense of gratitude for all that Ash provided to our department and to our broader community," said Mark Jackson, Vice President of Athletics at Villanova University. "His leadership was steadfast and helped guide us through some of the most seismic changes our industry has ever gone through. More importantly, Ash is a fantastic colleague and friend and there is no doubt he is prepared to capitalize on the opportunities that lie ahead at La Salle." 
Prior to joining the Philadelphia intercollegiate athletics community, Puri served as Vice President of Strategy & Business Operations of the Oakland Athletics, where he oversaw more than $60 million in annual revenue. In this role, he managed and led fan focused upgrades at the Oakland Coliseum and was a member of the new ballpark development team.  Puri also led several organization-wide initiatives including the CORE Academy, an innovative program that helps introduce recent college graduates to sports business. 
From 2012-2017, Puri was Senior Associate Athletic Director and Chief Revenue Officer at the University of California, Berkeley where he was responsible for more than $45 million in total annual revenue and led ticket operations, ticket sales and service, premium sales, customer relationship management, marketing, creative, brand, advertising, social media, licensing and merchandise, and special events. Notably, he also served as a liaison for several external partnerships, a role that allowed Puri to spearhead two of the program's largest partnerships with Learfield Sports and Under Armour. At the time, these partnerships ranked among the most valuable across D1 public universities. Puri also led premium seating and hospitality improvements at both Haas Pavilion and California Memorial Stadium.   As a result of his impact at University of California, Berkeley, Puri was named among the Sports Business Journal's "Forty Under 40" Class of 2017. 
He also held roles with the New York Jets, the New Jersey Nets, and the NBA front office. 
Puri's selection comes as a result of a national search in partnership with Collegiate Sports Associates, the industry leading search firm. 
Read more from the full release from La Salle Athletics HERE.

Committed To Excellence
With over thirty years of experience in intercollegiate athletics, CSA delivers a unique level of service that effectively meets the needs of the nation's leading universities and conferences.