Maisha Kelly Named AD at Drexel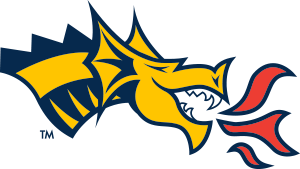 PHILADELPHIA, PA —Following a national search, Drexel University has named Maisha Kelly, a seasoned collegiate athletics administrator with deep Philadelphia roots, as the University's new director of Athletics. Kelly, currently serving as Bucknell University's senior associate director of athletics and senior woman administrator, will start at Drexel in mid-July.
CSA is grateful to have assisted Drexel Senior VP Dr. Subir Sahu, Associate VP Dr. MacKenzie Luke and Drexel University on this search. 
"Maisha is a proven, high-energy leader who no doubt has an ambitious vision for Drexel Athletics," said Drexel President John Fry. "She has a demonstrated ability to work with all campus constituencies and understands the vital importance of nurturing student-athlete leaders. We are honored to welcome her to the Drexel community."
Kelly has developed a wide breadth of experience during her decade-long tenure at Bucknell, ranging from sport oversight, to partnerships with key campus constituents, to the creation of DEI and student-athlete leadership programs, to fundraising. In each of those roles, Kelly led from the fundamental perspective of holistic support for Bucknell's more than 750 Division I student-athletes.
"I look forward to joining an organization genuinely committed to partnerships and excited to return home to a city that has impacted who I am as a person and a professional," said Kelly. "Working with a team of talented administrators and coaches presents me with the opportunity to lead a comprehensive intercollegiate athletics department, where competitive success is a product of the overall student-athlete experience, and where excellence is pursued academically, athletically and personally."
"Maisha Kelly is absolutely terrific and Drexel University has hired an outstanding administrator whose focus is the academic success and personal development of student-athletes.  She has a track record of building winning programs and is committed to diversity. I am so excited that Maisha gets to return to the city she loves, where she starred as track student-athlete while working for a first-rate institution. I commend Drexel on selecting Maisha Kelly as its next Director of Athletics. I cannot imagine a better choice than Maisha."
Kelly's administrative role at Bucknell included oversight responsibilities for as many as 12 of the 27 varsity athletics programs. She also served as the athletic department's liaison to the academic deans, human resources, financial aid and admissions, student affairs and NCAA compliance. Kelly spearheaded the department's long-range planning, she served as the university's deputy Title IX coordinator, and she played an active role on the President's Diversity Council. Kelly created the athletic department's first student-athlete leadership development program — the Bucknell Athletics Leadership Institute — in 2011, and last year organized the Bucknell Athletics Diversity, Equity and Inclusion Council, comprised of administrators, coaches and student-athletes.
Kelly recently transitioned to become Bucknell Athletics' primary leader in the area of development and fundraising, where earlier this spring she coordinated a 24-hour giving challenge that netted more than $1 million. And she was the fundraising project manager for a $10 million transformational facility enhancement of Bucknell's historic Christy Mathewson Memorial Stadium. 
"In every aspect of her work representing Bucknell and the Patriot League, she has operated with thoughtfulness and integrity, focusing first and foremost on the development of the student-athlete. I know that Maisha will be a trusted and respected leader at Drexel and I am thrilled for her to receive this opportunity."  
Kelly's rise in intercollegiate athletics administration came by way of student development positions at Rutgers University, Vanderbilt University and Saint Joseph's University. She joined Bucknell in 2010 after serving as assistant director of championships at the NCAA headquarters in Indianapolis, and she has served as the NCAA's sport leader for swimming and diving. In 2018, Kelly received a prestigious appointment to the NCAA Division I Council, where she represents the Patriot League on important policy matters. She also serves as the Council representative on the NCAA Board of Governors Student-Athletic Experience Committee and is a member of the NCAA Division I Women's Basketball Oversight Committee.
"Congratulations to Drexel University for hiring a strong leader in Maisha Kelly who is ready to lead its athletics department to a bright future. I could not be happier for Maisha and her family. For over a decade, Maisha passionately served our student-athletes, coaches, and Bucknell University — that will now be to the benefit of Drexel. Maisha cares deeply about the student-athlete experience. And her vast experiences within collegiate athletics and versatility as an athletics administrator make her an excellent choice to lead Drexel Athletics."
As an undergraduate at Saint Joseph's, Kelly captained the track and field team and earned an NCAA Postgraduate Scholarship. She received her master's in Sport and Recreation Administration from Temple University in 2005.
Kelly's selection follows a national search in partnership with industry leader Collegiate Sports Associates that encompassed both senior collegiate athletics administrators as well as professional sports and private-sector executives. The pool of finalists for Drexel's director of Athletics position included current Division I athletic directors and senior college administrators from conferences such as the Big East, Big Ten, SEC and Big 12.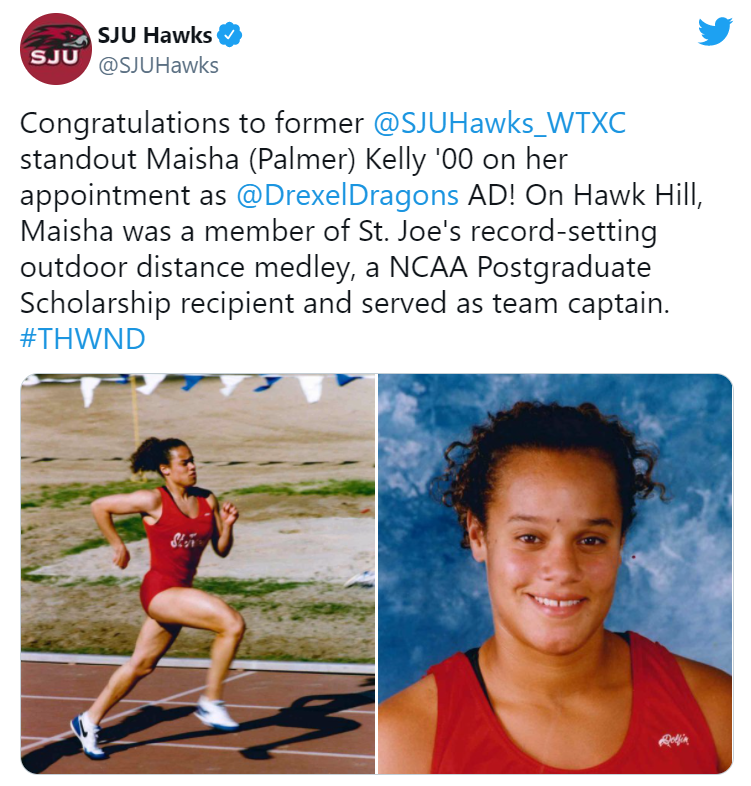 "Maisha rose to the top of the pool and is eminently qualified to leverage the success seen across all sports at Drexel," said Subir Sahu, PhD, senior vice president of Student Success who oversees the Department of Athletics at the University. "Moving forward, she will support the high level of competitiveness, academic excellence and attention to diversity and equity that characterizes Drexel Athletics."
Kelly will oversee a department that sponsors 18 varsity teams. The Drexel Dragons won Colonial Athletic Association championships this past season in men's basketball, women's basketball and men's lacrosse. In addition, the women's lacrosse team earned its first-ever NCAA at-large bid. Drexel Rowing won the overall points title at the Dad Vail Regatta, with the women's team earning gold in the Varsity 8.
Over time, Kelly will help the University define and develop a new collegiate athletics model, in addition to becoming an influential thought leader in the national conversation about the future of collegiate athletics.

Committed To Excellence
With over thirty years of experience in intercollegiate athletics, CSA delivers a unique level of service that effectively meets the needs of the nation's leading universities and conferences.