Southern Conference Selects Michael Cross As 10th Commissioner
SPARTANBURG, SC – The Southern Conference has named Michael "M.C." Cross, Ph.D., its new commissioner, effective July 1. A nearly 30-year veteran of athletic administration, Cross comes to the SoCon from the Knight Commission on Intercollegiate Athletics after previous stops at Penn State, Bradley, Princeton and Michigan. Cross will be the 10th commissioner in league history and succeeds Jim Schaus, who announced in February that he will retire at the end of June after leading the league office for four years.
CSA is honored to have assisted the Conference, Search Committee Chair and Furman President Dr. Elizabeth Davis and Council of Presidents Chair and UNC Greensboro Chancellor Frank Gilliam on this search.
"The Southern Conference is one of the historic and iconic conferences in college athletics and the opportunity to lead its member schools at a time of dynamic change in NCAA Division I is a challenge I am eager to embrace," Cross said. "The Conference's emphasis and genuine interest in education, competitiveness, and the well-being of their college athletes is easy to endorse.
"I am incredibly thankful to the SoCon presidents for their belief in my leadership and ability to support the member schools as we speak and act in a unified manner. I cannot overstate my appreciation to the chair of the search process, President Elizabeth Davis of Furman University; the current chair of the Council of Presidents, Chancellor Frank Gilliam of UNC Greensboro; and the members of the search committee. I also want to thank Todd Turner and his team at Collegiate Sports Associates for their incredible professionalism and stewardship of this process."
"The search committee was presented with a deep and diverse pool of candidates," said Furman University President Dr. Elizabeth Davis. "Michael brings a great deal of on-campus experience plus a unique skill set developed while working with the Knight Commission. He has the right vision and insight to lead us in the ever-changing world of intercollegiate athletics."
Cross has served as the managing director for communication and policy for the Knight Commission on Intercollegiate Athletics since January. There, he coordinates the Knight Commission's College Sports Governance and Structure Committee and efforts of the communications team.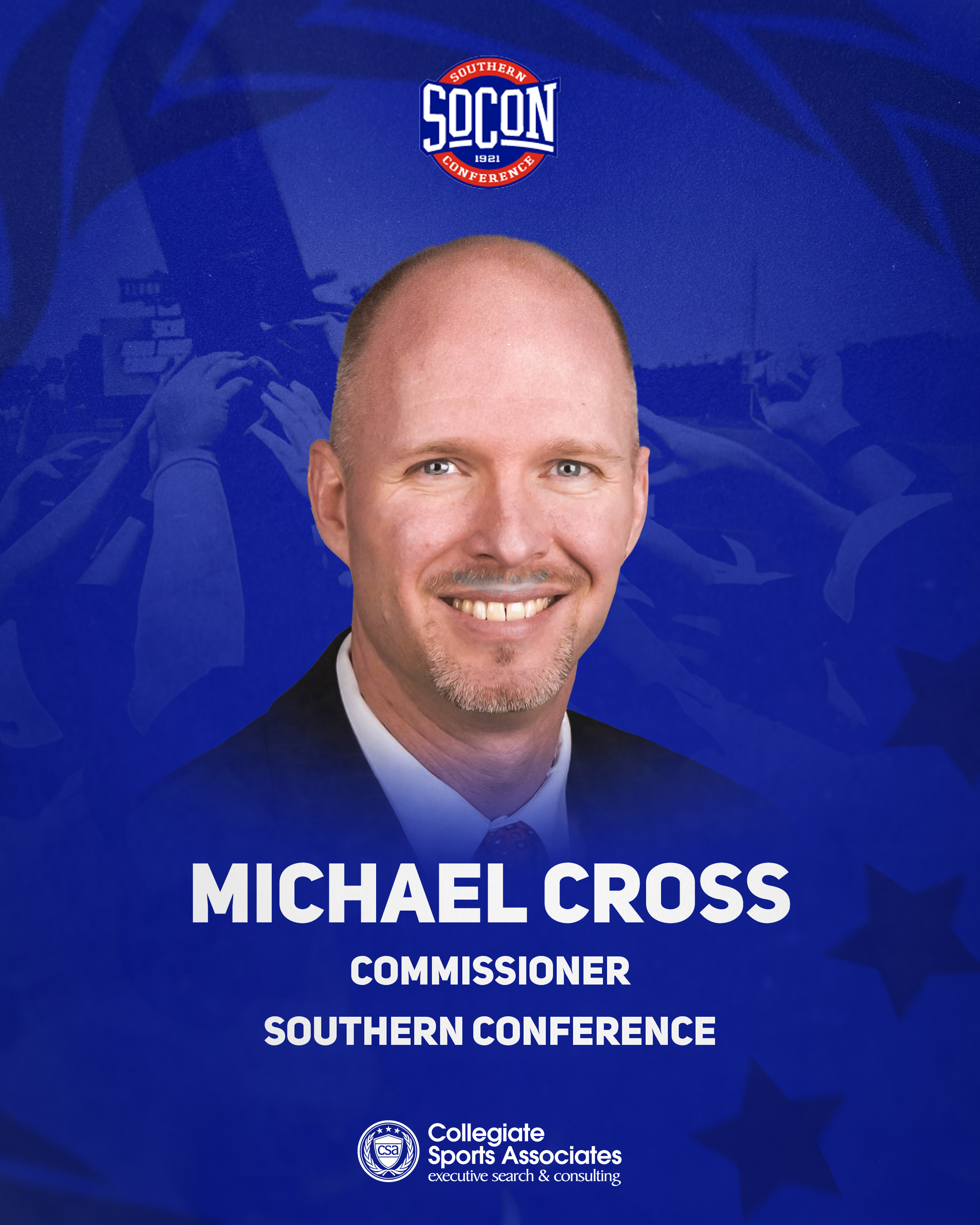 From 2015-23, Cross was at Penn State, where he was the sport administrator for numerous programs, including the Nittany Lions' nationally ranked men's and women's hockey teams. He was also responsible for new business development, identifying, screening and advancing revenue-generating opportunities to provide resources for Intercollegiate Athletics. Additionally, he served as an Executive Committee member on the Penn State Center for the Study of Sport in Society board since its inception in 2016.
Prior to his stint at Penn State, Cross was the director of athletics at Bradley University from January 2010 to March 2015. He oversaw the opening and dedication of Renaissance Coliseum, a $50 million, 4,200-seat arena that is home to Bradley's athletics department and teams.
During his tenure, Cross negotiated the department's first multimedia rights agreement that increased corporate sponsorship revenue to an institutional record of nearly $1.1 million; instituted a coherent branding strategy, style guide and new mascot for the department; signed Bradley's first-ever all-sports apparel deal with adidas; implemented a courtside seating plan for men's basketball that created $100,000 in new annual revenue; and reinstated men's indoor and outdoor track after a nearly 20-year hiatus.
Cross spent over 10 years at Princeton in a variety of roles before moving to Bradley. He started at Princeton as assistant director of athletics for compliance in July 1999, working his way up to executive associate director of athletics in July 2006, a role he held for over three years. Cross also served as the acting director of athletics for a five-month period during that time.
During his tenure at Princeton, Cross concurrently served as the commissioner of the Collegiate Sprint Football League from 2003-07.
Cross began his career at Michigan, serving as a graduate assistant before earning a full-time post as an NCAA certification assistant. He was an assistant director of compliance for the final two years of his tenure.
Cross was the co-founder of Athlete Viewpoint, a technology-based survey tool and data analytics platform designed for athletic directors to fully understand the experience of their student-athletes to inform decision making, strategic planning, and quality control for every aspect of an athletic department. The company was acquired by Game Plan in 2021.
A native of Hamburg, New York, Cross is a former basketball student-athlete and a two-time graduate of the State University of New York at Buffalo, earning an undergraduate degree in economics in 1991 and a master's degree in college counseling in 1993. He would go on to earn a doctorate in higher education administration from the University of Michigan in 1999.
"I've been fortunate to work with many talented and values-based leaders and coaches throughout my career, most recently at the Knight Commission on Intercollegiate Athletics, led by CEO Amy Perko. The Commission members and consulting team of highly talented professionals are an amazing group whose commitment to the education, health, safety and well-being of college athletes is inspiring. Their thinking represents some of the best ideas in college athletics and will benefit the SoCon as we navigate the future of college athletics.
"Finally, I want to thank my wife, Jennifer, for her incredible support and willingness to leap into the unknown once again."
The Crosses have two adult sons, Aidan and Nathan.
For the full release from the Southern Conference, click HERE.

Committed To Excellence
With over thirty years of experience in intercollegiate athletics, CSA delivers a unique level of service that effectively meets the needs of the nation's leading universities and conferences.